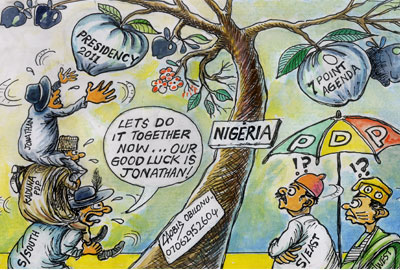 By Jide Ajani
ABUJA—AS President Goodluck Ebele Jonathan gets set to declare his intention to run in next year's presidential elections, the North is moving ahead to consolidate its decision on the choice of a consensus candidate.
This time, what constitutes the North is an amalgam of the Northern Political Leaders Forum, NPLF, Arewa Consultative Forum, ACF and the Northern Elders Forum, NEF.
Already, a number of potential presidential aspirants had been slated for consideration.
Among the front runners are General Muhammadu Buhari (rtd), National Security Adviser, NSA, General Aliyu Mohammed Gusau (rtd), Jigawa State Governor, Sule Lamido, and Bauchi State Governor, Isa Yuguda.
But the strong contenders also include former Military President, Ibrahim Badamasi Babangida and former Vice President, Atiku Abubakar.
Although the list of contenders continues to expand, Vanguard was told that the North was seriously contemplating prevailing on some of the aspirants to drop their ambition.
North on consensus
Vanguard was told that the series of consultative meetings going on in the North was "primed to come to the conclusion of a consensus candidate emerging from the North".
A source said the decision of who would carry the banner for the North was yet to be made, adding: "One thing that is definite is that the North is going to present just one candidate for next year's presidential elections.
"This is because it is still believed in the North that the next four years is for us. That meeting that was held in Aso Rock on December 22, 2002, where the party insisted on zoning, is the same spirit that the National Executive Committee, NEC, of the party ratified again so, when they now came out to say that President Jonathan is free to contest, it left people wondering what they meant.
"But what the North is working on since the PDP appears to be telling Nigerians that they want to sink with President Jonathan, is to present a unified front at the polls next year.
The consultations going on in the North now is with a view to achieving that objective.
"For as long as the PDP decides to go against the grain of popular desire, we wait to see how they will achieve the objective."
Vanguard learnt that the eventual consensus choice of the North would not be strictly in line with just one political party but "would cut across party lines."
Candidates on the cards
Vanguard also learnt that whoever would emerge as the choice of the North "would be an individual without a baggage."
According to Vanguard investigations, and contrary to some of the information being peddled about some aspirants, "the North is looking in the direction of a candidate that would not carry a baggage. That is why some of the major names being touted may not eventually make it because some Nigerians might have issues with such candidates.
"With all their good intentions and experience, the former President, Babangida, and former Vice President Abubakar, may have some difficulties in making the bar.
Babangida, because of June 12 and Abubakar, because of what he is currently going through with the PDP."
But the source's disclosure that Gusau, Lamido and Yuguda were in the reckoning "even as consultations continue," was shocking.
The source said: "Lamido is seen as a state governor who does not have any baggage and the people in his state, even his opponents, are saying that he is performing. But performance is one thing, networking is another.
Then there is Yuguda whom some of the state governors are talking about, but his filial relationship with the family of late President Umaru Musa Yar'Adua remains a discount. There is also Bukola Saraki of Kwara State and Goje of Gombe.
"The National Security Adviser, Gusau, is also on the cards because of his exposure both within and outside the country. Don't forget, he has been NSA since 1999 and had to be brought back again early this year when there appeared to be some problems in the national security apparatus."
Jonathan scans environment
Even in Aso Rock Presidential Villa, a source disclosed to Vanguard that "President Jonathan is still scanning the environment and would not be stampeded into taking a precipitate decision. Vanguard was told: "The President wants to be sure of what he is going into and it is not enough to just aspire."
To this end, Vanguard gathered that the role of the NSA in the unfolding drama remains very crucial.
It was gathered that even in the North, "the possible choice of Gusau, within the trio of the NSA, Atiku and Babangida, appears to be gaining good ground because of his position as NSA. The North wants somebody who does not have any baggage and who would not create a problem when presented.
"If you know the way General Gusau has conducted himself, even as we speak, you can not say he is in the race and that is why the North is looking critically to ensure that a good product is presented."
Reminded that as an intelligence officer, Gusau also has a baggage, the source said "if as an intelligence officer you can stabilize the polity how does that become a problem in the face of what we are witnessing now when people whom we know what they have done and what they can do are the ones making the loudest noise."
Asked about former head of state, Muhammadu Buhari, within the context of a consensus candidate, the northern leader made it clear that "what we are saying goes beyond just the PDP.  Why not Buhari if he can be used to prove the point to the PDP".
Reports reaching us suggest that a multiple bomb explosion this morning rocked the Gombe Line Motor Park in Gombe, the Gombe state capital, killing at least ...
Burkina Faso's President Blaise Compaore is no longer in power, an army spokesman has told demonstrators in the capital, Ouagadougou. Mr Compaore had earlier said he ... Full story
Islamist Boko Haram militants have seized control of the northeast Nigerian town of Mubi, killing dozens of people and forcing thousands to flee, witnesses said. The ... Full story
Joy Williams, 23, from Thamesmead, was described as a 'caring and funny' girl who was 'loved by everybody. She died on October 23 after travelling to ... Full story
Soldiers in Nigeria's military may be working as moles for Boko Haram, giving the terrorist group vital information about the military's strategies and tactics. News site, ... Full story
Ebola is a lot easier to catch than health officials have admitted — and can be contracted by contact with a doorknob contaminated by a ... Full story
Hundreds of Nigerian soldiers are reportedly leaving the town of Mubi in Adamawa State, as members of the terrorists' group, Boko Haram, make advances to ... Full story
The end times are finally here. Some of the things we used to say can never happen in Nigeria are beginning to unfold and unfurl ... Full story
Chris Giwa, the Nigeria Football Association (NFA) Chairman who was restored to office on Thursday by a Jos court ruling, said on Monday that sacked ... Full story
He soon began to threaten me with a knife to have sex with him and when I refused, he brought out his gun, warning that ...
Nollywood actor and model, Kenneth Okolie, has disclosed that dating an actress is the worst mistake an actor can make. The former Mr. Nigeria, who is ...