Home
|
News
|
General
| Ezeawulu chairman, allegedly spends N3.170m; divides cabinet, sues members to court
---
---
…. No it's a lie, they're anti-progressive – Chairman
…Action exasperates villagers
By Nwafor Sunday
The Chairman of Egbeani-Ezeawulu, a community located in Nibo, Anambra state, Mr. Ignatius Okelekwe aka 'Ubom Senior', has reportedly divided the members of his cabinet via his obdurate attitudes, squandermania and alleged psycho- lackadaisical behavior usually displayed on issues affecting the community, newsmen report.
Report has it that he sued some members of his cabinet and non cabinets to court which witnesses confirmed to be likened to be his enemies that opposes his administration.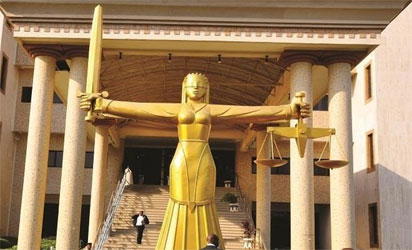 Newsmen equally gathered that Mr. Ignatius has allegedly spent N3.170million (Three million, one hundred and seventy thousand) without the exclusive consent and approval of a large number of his executives or the community.
Also an alleged report has it that he valiantly sold two plots of land which he was quoted to have sold each for N2.5m, (Two million, five hundred thousand Naira), thus received a part payment of N4m,(Four million Naira) without the approval of his executives and again the community. When quizzed to account for the above money, newsmen was told that Mr. Ignatius maintained a dictatorial ground.
While investigating, Vanguard gathered that Mr.Ignatius had acted in unionism with Obum Akpom,Chike Uzodimma, Osita Nnamdi, Onyebuchi Onyidobu, Frank Ndibe, Chika Ibida and Ojukwu Okpagu  to sue Tony Omeligwe Elee, Chief Emeka Okonkwo, Mike Ezeama, Onyeka Egbe, Okechukwu Chukwuneke, Samuel Ilozue, Ikenna Obiekwe, Okwuchukwu Oliagba and Ogugua Onyama to high court Awka.
In the words of one of the defendants, Mr. Onyeka Egbe alias Bishop, "We have been pestering him to conduct and preside over a meeting for us since January, but he insisted and hold bent to his decision because he knows we are going to grill him on accountability. Our constitution provides that we must hold meetings once in every month particularly at the 'Oye' market day.
"Section 39 paragraph C, empowers the chairman to conduct and presides over a meeting. Also the same paragraph 'C' equally gave the constitutional right to seven executive members to preside over a meeting, which we had and resolved that Mr. Ignatius Okelekwe having seen his unproductive strengths, had seized to be our chairman.
"That particular action we took got him angry. He reported us to the police which we attended, both the first and second invitations. The third invitation saw everybody except him who was in arm's length, nailing his absent to an accident that involved his maid in Maidugiri. That is a blue-light lies from the pit of hell, he said.
"This man is a 'one man executive'. He does the work of all the executives, which unequivocally contradicts the provisions of our constitution. The principle of separation of power should be adhered to, if he knows what he is doing.
"Now he has gone to sue us in Awka high court. Let's wait and see who will laugh last."
Conversely, when Vanguard contacted Mr. Ignatius via phone call, he refuted all the allegations leveled against him, saying "It is the work of my enemies who are anti-progressives. They hate progress and community development. Though they have seen my abilities and believe me, they are afraid of me. It is only a fool that will exchange words with them.
"I did not divide my cabinet, they did and their actions warrant going to court.
"Look, the money they are talking about is the one I used to repair necessary things in the community. Things like roads and boreholes. When I assumed power none was functional.
"What gibberish are they talking about? Though I know my enemies are at work but court will decide our fate soon.
"Most of my colleagues, who fight me for an unjust cause, do so because they have received bribes from the past executives to remove me.
"You see! The past executives are afraid of me because I was able to identify their loopholes and corrupt practices. Believe me they will pay for it. For over eleven years they were in power, never a time have they accounted for the lands they sold, latracts, bamboo tree and other income generated resources.
"A slight reminisce into the past executive approach to governance will make you cry. Could you believe that they hold their meetings at Mr. Martins Akpom's compound, take decisions, implement them for Ezeawulu without our approval.
"The past executives have not been able to explain how a whooping sum of N20m (Twenty million naira), was spent for the renovation of the old pump house and a health post equipped with two beds and one drip stand.
"The group has not been able to show the new executives the two remaining shops believed to be in Eke Nibo market.
"The same group converted Ezeawulu's lease agreement of 1948 into free hold to a church without our knowledge.
"Thirteen plots of land they sold at the cost of N2m (two million naira) each, totaling N26m (Twenty six million naira) is yet to be accounted for.
"These are part of the things they hide and are bent on using my fellow executive members to distract me. I will never lose focus and they must face justice", he finally said.
Meanwhile, men and women of the community expressed their dissatisfaction at Mr. Ignatius actions and condemned in totality his moral fiber of reporting to the police and suing the defendants which perhaps contradicted section 9 of their constitution.
Section 9 prohibits non criminal offense to be reported to the police. And anyone who acts contrary to its provision stands to be ostracized from the community.
What do you say on this?
CLICK HERE TO READ MORE FROM: General
Chuka (Webby) Aniemeka
Chuka is an experienced certified web developer with an extensive background in computer science and 18+ years in web design &development. His previous experience ranges from redesigning existing website to solving complex technical problems with object-oriented programming. Very experienced with Microsoft SQL Server, PHP and advanced JavaScript. He loves to travel and watch movies.
View More Articles
100 Most Popular News
1
2
Displaying
1 - 100
of
199