---
---
The 20th edition of the much anticipated annual music festival, Felabration 2017, marking the 79th posthumous birthday of afro-beat maestro, Fela The 20th edition of the much anticipated annual music festival, Felabration 2017, marking the 79th posthumous birthday of afro-beat maestro, Fela  Anikulapo-Kuti, finally ended on Sunday, October 15, 2017, at the New Afrika Shrine, Ikeja, Lagos, with a mixture of sweet and sour memories which may hardly be forgotten by those who graced the weeklong event. With humor merchant, Omo Baba, as sole host all through, it was a display of razzmatazz, entertainment panache, spiced up with jaw-breaking musical performances from Femi Kuti, Seun Kuti, Adewale Ayuba, Pasuma, Pepenazi, Lagbaja, Omawumi, Burna Boy, Adekunle Gold, Bez, L.A.X, Daddy Showkey, Oritsefemi, Wizkid, Aramide, Simi, Wande Coal, Maka, Praiz, Ckay, Junior Boy, Dotman, Dice Ailes, Ice Prince, Xtacy, among many others.However, the festival wasn't devoid of some sour moments which almost marred the fond memories in the minds of fun lovers who thronged the Afrika Shrine.
BY AYO ONIKOYI and
ROTIMI AGBANA
Sweet memories
Unarguably, Felabration 2017 is reminiscent of many fond moments that will hardly be forgotten anytime soon. Below are some of such moments:
Entertainment panache
For those who attended the music festival, it was entertainment extraordinaire. Though artiste performances were pro bono, but the kind of energy and stage dexterity exhibited was laudable. To the surprise and shock of even the organisers, Wizkid, who rarely attends industry shows in Nigeria, performed energetically on stage for almost 30-minutes to the admiration of the crowd and critics who believed he wouldn't stay long on stage due to suspicions of his failing health condition. The likes of Fuji singer, Alhaji Pasuma Wonder and Bonsue crooner, Adewale Ayuba, who are usually heavily paid for such events, gave stellar performances with their personal bands, thrilling their fans and music lovers to a medley of good tunes from their repertoire.
Surprise giveaways  
As a means of rewarding afro-beat lovers and loyal fans of the late Abami Eda, surprise gifts, such as generating sets, refrigerators, mobile phones among other things were given out to fans whose names were picked in a raffle draw which was conducted during the week. Also, online music app, Boom Play, gave out various prizes ranging from mobile phones, T-shirts, etc, to some fans who participated in various dance competitions which took place on the first day of the event, Monday, and on Tuesday.
Unveiling of Fela's statue
Some may be tempted to say that it was a waste of time and resources to celebrate the late Fela with a monument such as the 'Liberation Statue', erected at Allen roundabout in the heart of Ikeja, Lagos; but it is a move worth the effort because Fela was a legendary social crusader who fought for the liberation of the common man.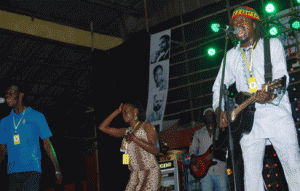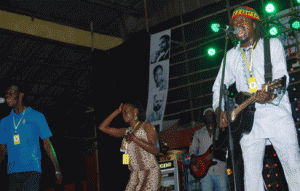 On three different occasions during his performance, Super Cool Cats label henchman, Ice Prince, paused to give out something he had on. He gave out his face cap to a female fan in the audience, threw his sweat shirt into the crowd which caused a mad rush for it and later also gave out his pair of luxury sneakers to a lucky female fan who insisted he must give it to her.   Like he had plans to blow her mind, he called her upstage and dedicated one of his love songs to her as she blushed with excitement.
Crippled fan got cash gift from Wizkid
Like he and Ice Prince had a grand plan to show love to their fans while performing on stage, during his performance at the grand finale, Wizkid put smiles on the face of a crippled male fan who wriggled his way to the stage just to catch a clear view of him. Dancing vigorously as Wizkid performed his Pull Over song, featuring Five Star Music's Kcee, Wizkid was forced to pause his performance to spray cash on the crippled fan as he ran wild with excitement, scampering to pack his money. Hoping to get a taste of the booty, the crowd roared in jubilation as they expected Wizkid to throw some cash into the audience, but alas, he didn't.
Soyinka's Cameo appearance
Who would expect the Nobel Laureate, Prof. Wole Soyinka's caliber at Felabration? With wild excitement and jubilation from the audience, Wole Soyinka, who is said to be a relation of the Kutis, made a cameo appearance on stage. He showered encomiums on the late afro-beat maestro, declaring him a social crusader and freedom fighter who fought for the helpless masses with his life and music. He urged the organisers of Felabration to keep the spirit of Fela's vision in perspective and continue the fight against oppression, corruption, bad governance and true leadership.
Lagbaja's return from musical exile
Making a surprise appearance at about past 5a.m, when most people were already worn out from lack of sleep, excess alcohol and marijuana intake, the crowd went wild with jubilation. Showtime's observation revealed that most people had been craving to know his whereabouts since he had gone radio silent for some time. Though he just returned from his hiatus, he was able to satisfy his audience with good music.
Sour moments
There is the saying that "life itself is not a bed of roses"; this was a recurring decimal at the just concluded music festival. Here are some of the ugly moments that characterized events during the week.
Davido's disappointment
Embattled pop star, Davido, was billed to perform on Tuesday night, the second day of the one week festival. But he cancelled his performance in honour of his late friends, Tagbo Umeike and DJ Olu, who died mysteriously in the previous week. There was a palpable ambience of disappointment when announcement was made that he would not be gracing the stage as a result of the recent developments.
Lack of proper organization
This is not to say the organisers didn't put in their best, the organization wasn't just adequate enough. The sitting arrangement in the hall was scattered all through the week, the space provided for media personnel to catch a clear view of artistes performances was not convenient; the hall itself was too small to accommodate the crowd that thronged the venue just to catch a glimpse of their favourite   music stars.
Omo Baba's war of words with thugs  
The saying "To whom much is given much is expected" is rather overemphasized when it comes to Nigerian celebrities. People tend to forget that though they are public figures, they are also humans like us with blood flowing in their veins; therefore they take hilarious swipes at them with reckless abandon. Some thugs in the crowd took it upon themselves to mock Omo Baba on a daily basis at the festival, but he surprised them on day two when he exchanged abusive words with them just the way they gave it to him. This eventually continued till the grand finale on Sunday.
Security men's brutality
Like they were licensed to wreck havoc on anyone who mistakenly got in their way, security officials contracted to maintain law and order, bullied innocent people randomly in fits of eye service or over zealousness on the job. Anyone who tried to caution or call them to order got a taste of their brutality. Showtime's investigation revealed that most of them were under the influence of excessive booze, marijuana and hard drugs, which they took just to enhance their effectiveness on the job.
Artistes decline interviews
If the atmosphere in which they were to be interviewed was not conducive it would have been understandable, but the likes of Oritsefemi, Wizkid, Burnaboy, Tekno and many others refused to grant interviews for undisclosed reasons. Walking past the red carpet, Wizkid, Oritsefemi and Burnaboy ignored pressmen like a plague. No journalist could boast of seeing Tekno when he came in, investigations later revealed that he disguised himself and sneaked in to the backstage.
Stampede on Wizkid's arrival
Wizkid's arrival at the Shrine was dramatically epic. Arriving in the company of his crew which included his security detail, personal bouncers and manager, Sunday Are, there was a mad stampede as everyone struggled to catch a glimpse of the Ojuelegba crooner. It took the joint effort of his manager, personal bouncer, mobile policemen, NSCDC agents and security agents attached to the Shrine to put the crowd at bay. Heavily guarded, he was able to waltz backstage to prepare for his performance.
Harrysong, Lil Kesh left in anger
After announcing that Harrysong and Lil Kesh were backstage waiting to perform, the crowd patiently waited to witness their stagecraft, but alas, they were later nowhere to be found. Showtime's investigation revealed that they both left in anger with the feeling that the organisers disrespected them by keeping them waiting for too long.
Discomfort
For those who attended the festival on the last three days, it was a tale of discomfort because it was obvious the organisers didn't put the comfort of the audience into consideration. The main hall, gallery and VIP sections were filled to capacity, leaving little or no space for free movement. Also, marijuana and cigarette smoke saturated the air, posing serious discomfort to non smokers. In addition, due to the smoke that filled the air and inadequate ceiling fans, the temperature was too hot for everyone. People resorted to removing their cloths just to feel a bit comfortable.
CLICK HERE TO READ MORE FROM: General
Chuka (Webby) Aniemeka
Chuka is an experienced certified web developer with an extensive background in computer science and 18+ years in web design &development. His previous experience ranges from redesigning existing website to solving complex technical problems with object-oriented programming. Very experienced with Microsoft SQL Server, PHP and advanced JavaScript. He loves to travel and watch movies.
View More Articles
100 Most Popular News
1
2
Displaying
1 - 100
of
187