---
---
By Dennis Agbo
SOME residents in Enugu state have branded the Enugu State Waste Management Authority, ENSWAMA, as a terrorist organization, going by acts of brutality which the agency has continued to unleash on them.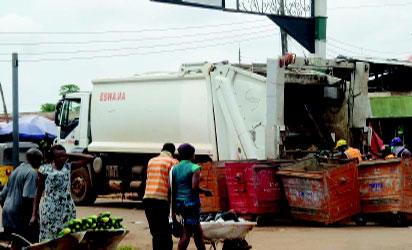 Sometimes in 2015, an enforcement team of the sanitation agency apprehended 11- year- old boy at Abakpa area of the state capital for dropping refuse at a designated dump site. The boy was asked to present his sanitation levy receipt which he did not have. He was taken away in their vehicle and on the road to their office, he was allegedly thrown out from their moving vehicle and the boy died.
That was just one of the episodes among many which residents of the state complained about which terrified them each time they saw or heard about ENSWAMA.
Recently, 24-year-old Ekpo Ubong Chukwunonso of Ugbo Lawrence Independence layout Enugu, a final year student of Electrical Engineering, Institute of Management and Technology, IMT, Enugu, was beaten to unconsciousness and allowed to die in his slum residence.
Recounting his bitter experience, a victim, Nonso, as he was popularly called said, "I was in my house on the 18th    of August 2017 sleeping when there was banging on my door, the noise I heard outside woke me up and before I could draw the curtain of my door, about five of them were there and I went back wondering what was going on but they pushed the door from outside and I heard 'where is the Teargas'. I became afraid of Teargas because I have asthma. So I opened the door and I asked what was the matter?
"The next thing I saw was a blow on my face and they dragged me on my leg, and started beating me as they dragged me outside my house. There was one with a long stick who hit me on my face and there was one with a mortar, who hit me on my neck and on my waist.
They hit me until I fell down and I didn't know what happened again until I saw myself in the Niger Foundation hospital. I saw one policeman holding a gun, standing with them when they were beating me.
"As they were beating me and I fell down, I asked them to help me with my inhaler because I was breathing fast but they ignored me and continued beating me. That was why I lost consciousness."
In her own account,    Ijeoma Igegbe said: "I went out that day and on my way back, I learnt ENSWMA people were here. Then, I started hearing some noise, policemen carrying guns were running up and down and the whole place appeared as if there was war. The ENSWAMA people came with SARS policemen, they were everywhere, so I hid in one place.
I stayed there for a long time and then suddenly,    I started hearing 'they've killed Nonso oh, they've killed Nonso oh,    Nonso is dead, Nonso is dead'. So I rushed up but somebody else had helped him to the main road to take him to the hospital.
"When I came up, I saw my door open, I rushed inside and saw that they had ransacked my house, they pulled down the ceiling to check if there was money there. They carried the mattress up, pulled down my jewelry box that I was selling took away the costly ones and the wrist watches. They took the N8, 000. 00 on top of the table, removed about N2, 800 from my handbag and other valuables that I can't even remember now.
"When I came out, I was told that Chinonso had been taken to the hospital because he was almost dead. He was on the floor lifeless, he couldn't even breathe properly before my neighbor, Mr. Ben, took him to the hospital."
When asked why the ENSWAMA personnel were in the area, Ijeoma said "We don't know why they came because there was no demand notice. This is pure intimidation and assault. They felt that we are poor and helpless, that was exactly what happened."
In his own account, one of the leaders in the cluster community, Engr. Ben Itumor said "It was in the afternoon when I came back to see my family at home, because I went to work. I came inside but I did not see anybody; I heard some noise and people started running and I started hearing the sound of breaking of doors.
When I peeped through the door, I saw policemen running up and down with some boys and I started wondering what the problem was and the next I heard on my door was a smash. They broke the door and came inside my house and when I challenged them with my cutlass, they ran outside. I dropped my cutlass when I saw about three policemen standing with them with guns.
"I dropped my cutlass and said to the policeman, 'so, you followed criminals to break my house by 12 noon. You came with armed robbers to break my house. You can never go free from this". As I was talking with them I saw Nonso on the ground with blood coming out of his mouth, nose and ears.
His eyes had turned white, and I shouted for people to come and help me take him to the    hospital. I told the policemen that they must not go and should take Nonso to the hospital but they started running and a policeman was telling the ENSWAMA guy that 'you people should go and carry that boy, the boy wants to die'.
"As they were saying that, they all ran away. I pursued them till we got to the main road and luckily I saw the DSS people coming and asked them to block the fleeing policemen and the ENSWAMA people but they moved with their three buses. We arrested one bus and out of anger some boys pelted the bus with stones but the driver escaped. Even the SARS operatives ran away and lied to the DSS personnel that we were the one who invited them to help us when ENSWAMA people were attacking us and they ran away."
Some of the residents of Ugbo Lawrence who were taken away by the agency said they were summarily tried at the ENSWAMA mobile court and driven straight to the Enugu prison where they were detained for 24 hours before the residents mobilized for a protest to the government house and were released from prison custody after the intervention of Governor Ifeanyi Ugwuanyi.
After four attempts to get the reaction of the agency, the Managing Director of ENSWAMA, Mrs. Amaka Anajemba paraded four of the young men with a uniformed man who claimed he was a policeman.
They were said to have participated in the havoc at Ugbo Lawrence but officials of the agency did not allow  Saturday Vanguard  to record their statements, insisting that they would only be heard but not to record their side of the story.
On why policemen supervised such an abuse, the Enugu state Police Public Relations Officer, Mr. Ebere Amaraizu said it would be difficult for any policeman to admit that he participated in such an exercise "because such a thing is an illegal job."
Amarizu said that if any of the affected victims could identify any of the police officers who participated in the exercise, the police would take it up and do justice in the matter.
All attempts to get the report of the Department of State Security, DSS, on the matter proved abortive because of the special working style of the agency.
CLICK HERE TO READ MORE FROM: General
Chuka (Webby) Aniemeka
Chuka is an experienced certified web developer with an extensive background in computer science and 18+ years in web design &development. His previous experience ranges from redesigning existing website to solving complex technical problems with object-oriented programming. Very experienced with Microsoft SQL Server, PHP and advanced JavaScript. He loves to travel and watch movies.
View More Articles
100 Most Popular News
1
2
Displaying
1 - 100
of
153