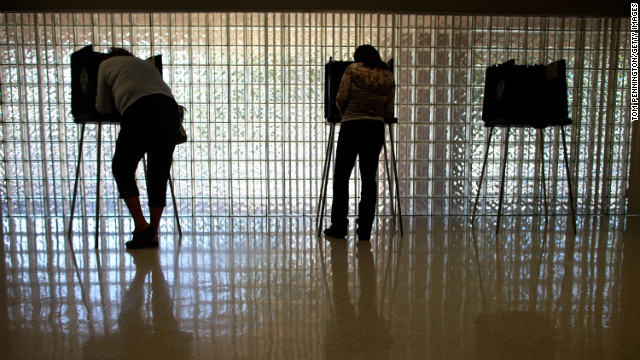 A federal holiday for Election Day could create a more festive atmosphere -- and more time to vote.
(CNN) -- I know some 800,000 people retweeted that "four more years" image of Barack and Michelle Obama. But a different and much-less-discussed tweet caught my eye on Election Day:
Election Day should totally be a federal holiday right? Like, let's trade in Columbus Day. Big festive Election Day BBQs should be a thing.

— Robin Sloan (@robinsloan) November 6, 2012
Explain to me how that's not a genius idea?
Of course, it's not an entirely original one. The actor who plays Dwight Schrute on "The Office" made a video about the subject earlier this year. But the best argument I found in favor of an Election Day holiday was in the pages of The Atlantic in 1998. Way back in those Backstreet Boy times, Martin Wattenberg wrote that Election Day should be combined with Veterans' Day to create Veterans' Democracy Day.
"This would send a strong signal about the importance our country attaches to voting," he wrote. "And what better way could there be to honor those who fought for democratic rights than for Americans to vote on what could become known as Veterans' Democracy Day?"
Veterans' Day is celebrated on November 11, which is Sunday this year. (Federal employees have Monday, November 12 off work). The holidays could be combined, Wattenberg says, on the second Tuesday in November.
I love Wattenberg's idea about Veterans' Day because of the message it sends to voters.
For the past month or so, I've been writing about Hawaii's distinction as the state with the lowest voter turnout rate in the 2008 election (and possibly in 2012, but the numbers are still coming in). For one piece of the project, I asked the People of the Internet to send messages to six nonvoters in the Aloha State, trying to convince them to vote. Three of the six caved to the social media pressure, and one, Michael Remen, told me he voted simply because of one of the messages he received. It came from a commenter on CNN iReport's Facebook page:
"Send him a free ticket to Arlington Cemetery and (show) him how many reasons there are to vote, since all those there died for that right, here and abroad."
"I thought that was a really powerful statement," Remen said, "and it made really good sense."
Aligning Voting Day with Veterans' Day not only makes logistical sense -- lines might be shorter if not everyone ran to the polls at the start and finish of the work day -- but also symbolic sense.
It might serve as a reminder to people like Remen that veterans have given their lives to protect the right to vote in the United States. The least we can do in return is honor their sacrifice by casting a ballot. And, as that tweet suggested, an Election Day barbecue wouldn't be so bad, either.
The opinions expressed in this commentary are solely those of John D. Sutter.
Actress, Nzube Onyia, is one hell of a lucky gal! She was riding with late actor, Clem Onyeka, that fateful day last year in Asaba, ... Full story
The Akwa Ibom High Court in Abak on Wednesday granted bail to Odudu Ukpanah, the son of a leader of the Peoples Democratic Party in ... Full story
Ghanaian Star Actress Yvonne Nelson started her movie career way back and she actually became one of the hottest and Most Wanted Actress in the ... Full story
AFTER the euphoria of their electoral victories, one of the major challenges that will confront the President-elect, Major-General Muhammadu Buhari (retd), and 20 or 21 ... Full story
The General Overseer of the Redeemed Christian Church of God, (RCCG) Pastor E.A Adeboye, prayed for UK Prime Minister, David Cameron and the congregation at ...
Anti-immigrant protests have been ongoing in South Africa for two weeks and at least five people have been killed Foreign nationals have been loading trucks with ... Full story
Prince Buruji Kashamu, Senator-elect, Ogun East Senatorial District, has responded to an article published in Associated Press. In the report, it was written that Kashamu, who ... Full story
A video has surfaced of Nigerian Prophet Temitope Babatunde Joshua warning South Africans in July 2013 of a 'youth revolt' in their nation which would ... Full story
There seem to be more trouble and break up looming in Psquare Villa. Barely two days after a new round of family squabbles between PSquare duo ... Full story
A man indicted in America for allegedly smuggling heroin, in a court case that was the basis for the TV hit "Orange Is The New ... Full story
As Muhammadu Buhari closed in on Nigeria's presidency, an aide to election commission chairman Attahiru Jega sent a text message to an independent voting monitor, ... Full story