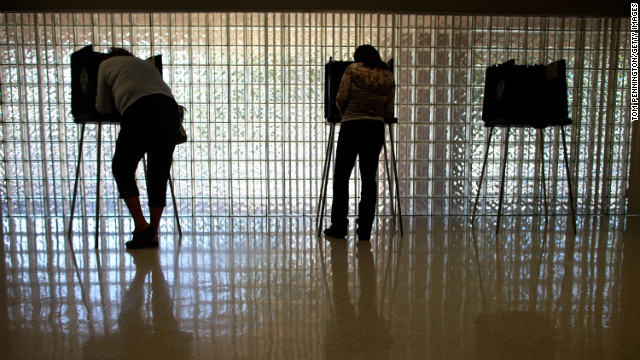 A federal holiday for Election Day could create a more festive atmosphere -- and more time to vote.
(CNN) -- I know some 800,000 people retweeted that "four more years" image of Barack and Michelle Obama. But a different and much-less-discussed tweet caught my eye on Election Day:
Election Day should totally be a federal holiday right? Like, let's trade in Columbus Day. Big festive Election Day BBQs should be a thing.

— Robin Sloan (@robinsloan) November 6, 2012
Explain to me how that's not a genius idea?
Of course, it's not an entirely original one. The actor who plays Dwight Schrute on "The Office" made a video about the subject earlier this year. But the best argument I found in favor of an Election Day holiday was in the pages of The Atlantic in 1998. Way back in those Backstreet Boy times, Martin Wattenberg wrote that Election Day should be combined with Veterans' Day to create Veterans' Democracy Day.
"This would send a strong signal about the importance our country attaches to voting," he wrote. "And what better way could there be to honor those who fought for democratic rights than for Americans to vote on what could become known as Veterans' Democracy Day?"
Veterans' Day is celebrated on November 11, which is Sunday this year. (Federal employees have Monday, November 12 off work). The holidays could be combined, Wattenberg says, on the second Tuesday in November.
I love Wattenberg's idea about Veterans' Day because of the message it sends to voters.
For the past month or so, I've been writing about Hawaii's distinction as the state with the lowest voter turnout rate in the 2008 election (and possibly in 2012, but the numbers are still coming in). For one piece of the project, I asked the People of the Internet to send messages to six nonvoters in the Aloha State, trying to convince them to vote. Three of the six caved to the social media pressure, and one, Michael Remen, told me he voted simply because of one of the messages he received. It came from a commenter on CNN iReport's Facebook page:
"Send him a free ticket to Arlington Cemetery and (show) him how many reasons there are to vote, since all those there died for that right, here and abroad."
"I thought that was a really powerful statement," Remen said, "and it made really good sense."
Aligning Voting Day with Veterans' Day not only makes logistical sense -- lines might be shorter if not everyone ran to the polls at the start and finish of the work day -- but also symbolic sense.
It might serve as a reminder to people like Remen that veterans have given their lives to protect the right to vote in the United States. The least we can do in return is honor their sacrifice by casting a ballot. And, as that tweet suggested, an Election Day barbecue wouldn't be so bad, either.
The opinions expressed in this commentary are solely those of John D. Sutter.
A Playboy model and former Miss Bosnia has been extradited after being linked with five murders and a string of robberies that netted millions. Brunette Slobodanka ... Full story
The Economic and Financial Crimes Commission has made an important inroad in its effort to trace and bring to justice the former Chairman of the ... Full story
Chris Brown reportedly stopped paying $10,000 a month in child support to Nia Guzman after the singer was denied visitation with his daughter this week. ... Full story
9 year old girl Splendour Joe Abisoye has written a book on terrorism which she titled 'Effects of Terrorism on Children'. Little Miss Splendour presented ... Full story
Corpses of the six pupils that died in the boat mishap in Ojo Local Government were yesterday recovered by the rescue teams and buried by ... Full story
The motorised boat which crushed the canoe conveying some pupils in Irewe, Ojo, Lagos State, killing six of them, was carrying stolen fuel, PUNCH Metro ... Full story
Chloe Mafia certainly aced her tennis outfit as she geared up for a very raunchy practice session. It looks like the fame-hungry star has picked up ... Full story
Sinitta had the sole intention of flashing some leg at RuPaul's Drag Race launch party in London last night - but not THIS much. The star ... Full story
Ace Nigerian DJ, Jimmy Adewale Amu, aka Jimmy Jatt,has said he doesn't mind playing at gay shows, as long as there is nothing attached to ... Full story
Suspected Boko Haram militants killed nearly 150 people in northeastern Nigerian villages, mowing down men and children while they prayed in mosques and shooting women ...
President Muhamadu Buhari on Thursday appointed Mr. Lawal Musa Daura as the new Director-General of the Department of State Security Service. He is to take over ...