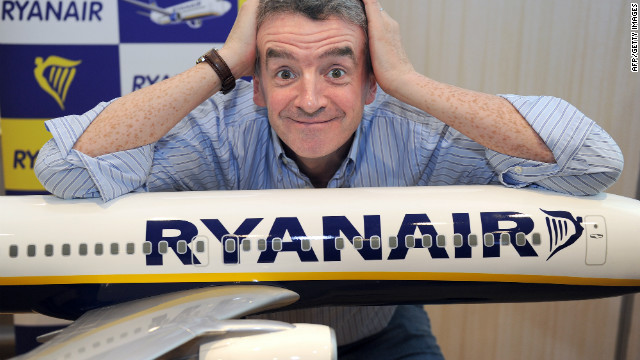 Michael O'Leary, CEO of Irish airline Ryanair, poses on a model Ryanair airplane on August 23, 2012.
STORY HIGHLIGHTS
CEO of Ryanair suggests adding a cheap "standing room" section on planes
O'Leary: "If there ever was a crash on an aircraft, God forbid, a seat belt won't save you"
We presume standing passengers would wedge in the back with livestock
Editor's note: Each week in "Apparently This Matters," CNN's Jarrett Bellini applies his warped sensibilities to trending topics in social media and random items of interest on the interwebs.
(CNN) -- About nine years ago I flew Ryanair from London to a town called Maastricht in the southernmost, dangly, uvula-looking part of The Netherlands. I don't remember how much my flight actually cost, but I promise you I've spent more this week alone in the candy machine at work.
Truth be told, I've completely lost all self-control. They keep stocking it with Swedish Fish, and now HR has had to warn me three times about borking in the break room.
"Bork! Bork! Bork!"
"Red light, Jarrett."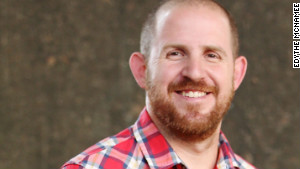 "Apparently This Matters" Is Jarrett Bellini's weekly (and somewhat random) look at social-media trends.
Anyway, my flight on Ryanair is relevant only in that I have firsthand experience flying with the famous low-cost European carrier whose CEO, Michael O'Leary, started trending on the Web this week after he proclaimed that seat belts on planes "don't matter."
O'Leary told the UK's Daily Telegraph newspaper that "If there ever was a crash on an aircraft, God forbid, a seat belt won't save you."
And he's probably right. When a giant metal tube going 500 mph slams into the side of a mountain, several inches of fabric and a spring-loaded metal clamp aren't going to let you simply walk away feeling like it was all just a minor inconvenience.
"Excuse me, captain. THIS isn't Denver."
But as everyone knows, saving you from a mountain crash isn't really the point of seat belts. They're primarily for turbulence, so that when you hit a patch of rough air somewhere between Erie and Pittsburgh, you don't end up face deep in row 32 with a Biscoff cookie firmly lodged in your skull.
O'Leary's argument against the importance of seat belts stems from his ultimate goal to create "standing room only" cabins for ultra-budget travelers who, we can only presume, would have to uncomfortably mingle in the back with the chickens and other livestock.
In 2003, when I flew Ryanair from London, I was definitely that ultra-budget (i.e. cheap) traveler.
At the time I was doing the whole European backpacker thing. I'd like to say I was out there trying to find myself, sucking the marrow out of life, but, really, I was too busy hitting ineffectively on Australian girls and looking at cathedrals ... and cathedrals .... and cathedrals.
Of course, money was tight, so Ryanair was a welcome resource when trying to fly over to mainland Europe from the UK. Basically, I was then exactly who O'Leary wants to target with these seats now.
To make this dream a reality, he even suggests that his airline, perhaps, remove the back 10 rows to accommodate people willing to stand for a couple hours for as little as £1.
O'Leary told the Telegraph, "If you say to passengers it's £25 for the seat and £1 for the standing cabin, I guarantee we will sell the standing cabin first."
In a lot of ways, it's like paying for the worst section in the bleachers at an undersold baseball game here in the United States. Many people don't actually care where they sit. They just want to be inside the park to drink beer, soak in the sun, and maybe heckle the opposing center fielder.
"Hey, Granderson! You wear rubber pants!"
"Dude, what does that even mean?"
"I have no idea."
But, really, the argument over his plan's merit is a completely pointless conversation since it's probably never going to happen. European safety laws require that passengers wear a seat belt for takeoff and landing.
O'Leary responded to these pesky regulations by calling the authorities a bunch of "plonkers."
So, for comedy alone, you gotta love this O'Leary guy! And at least he's being creative -- if not possibly reckless -- about the future of his industry.
His safety argument is that standing passengers could treat the experience just like riding public transportation on terra firma, grabbing onto hanging straps when things get bumpy. He notes that, for 50 years flying has been "populated by people who think it's this wondrous sexual experience; that it's like James Bond and wonderful and we'll all be flying first class when really it's just a bloody bus with wings."
He's right. It is. Though, personally, I hate everything about flying in the first place, and I've never actually thought of it as a wondrous sexual experience, save for the beginning of every flight, during that singular breathtaking moment in the Delta safety video when their sultry flight attendant softly wags her finger and playfully reminds me that I'm not allowed to smoke.
Oh, you know what I'm talking about.
Bork! Bork! Bork!
Of the 246,853 candidates who sat for the November/December 2014 West African Senior School Certificate Examination, only 72,522 candidates, representing 29.37 per cent, obtained credits ... Full story
Well, Mr. Ibu seems to have lost quite a lot of weight lately! Most likely for height reasons, he's channelling Rick Ross ... Full story
Multiple sources have it that Boko Haram, the deadly sect waging an insurgency against the state have killed 32 people in Borno State, and kidnapped ... Full story
Former Accountant-General of Bauchi State, Alhaji Bappa Tilde who was abducted last Saturday has been killed. According to residents, Tilde, 72, was brought by his abductors ... Full story
A man who was remanded in prison for attempting to steal his brother's money from an ATM has died due to the ineptitude of prison ... Full story
So, Seyi Shay and Wizkid featured in this new video titled 'Crazy', and Seyi Shay seems to have done something very crazy; she grabbed Wizkid's ... Full story
The couple brutalized by a police corporal in Lagos, Ejeh and Grace Smith, is suing the police authorities for damages. The Lagos couple that was brutalized ... Full story
Boko Haram insurgents kidnapped at least 185 women and children, and killed 32 people in a raid in northeastern Nigeria this week, local officials and ... Full story
Gospel singer, Kenny Saint Brown does not believe she lost out in the APC primary elections but rather her mandate was stolen Gospel singer, Kenny Saint ... Full story
Boko Haram leader, Abubakar Shekau, has threatened to attack the Emir of Kano, Muhammadu Sanusi II, in retaliation for the Emir's call on Kano residents ...
The police have arrested other six cops at the scene of the torture of a couple in the Lekki area of Lagos State. A police source ... Full story