STORY HIGHLIGHTS
Long Island Power Authority and Consolidated Edison being investigated
New York Attorney General Eric Schneiderman's office subpoenaed LIPA and ConEd
Source: Office wants to know what they did to prepare and handle aftermath
LIPA and ConEd have indicated they will cooperate with the investigation
New York (CNN) -- New York Attorney General Eric Schneiderman is investigating whether New York utilities Long Island Power Authority and Consolidated Edison adequately prepared for and responded to Superstorm Sandy, according to a source with knowledge of the investigation.
On Wednesday, the attorney general's office subpoenaed LIPA and ConEd requesting information about what they did to brace their systems ahead of the storm and their management in its wake, the source said.
The investigation, which began November 5, is examining whether ConEd, as a publicly traded investor-owned utility company, breached the Public Service Law, which requires gas and electric companies to "supply safe and adequate service."
Honoré: Sandy recovery is stumbling
Schneiderman's office is questioning whether LIPA, which was created under the Public Authorities law, violated its legal obligations to ensure a safe and dependable flow of electricity.
The attorney general is also studying disclosure statements LIPA made to bondholders regarding the ability of their power systems to weather severe storms, the source said.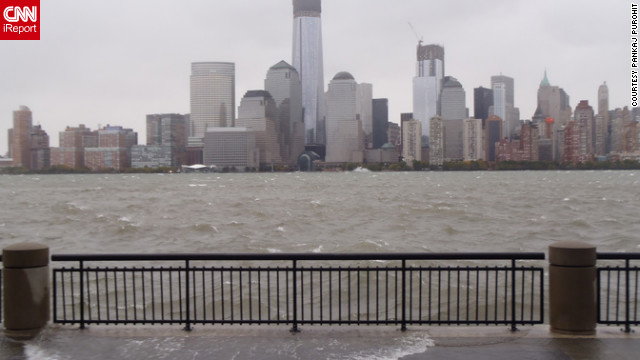 iReporter Pankaj Purohit lives five minutes from the boardwalk on Essex Street in Jersey City, New Jersey, which began flooding even before Superstorm Sandy's rains came.
What Sandy did to New Jersey
HIDE CAPTION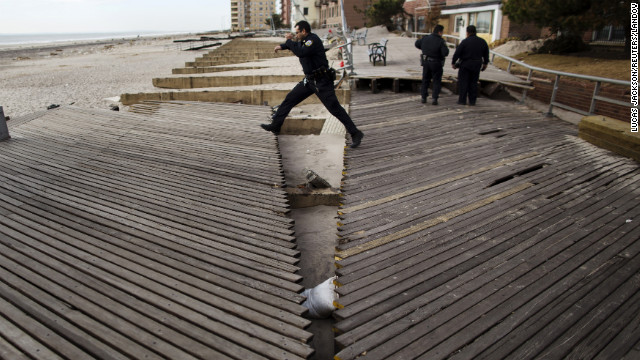 A New York police officer jumps over a large crack in a boardwalk in Brooklyn on Wednesday, November 14. The boardwalk was damaged by the storm surge from Hurricane Sandy. See photos of the immediate aftermath of Sandy.
Long, slow recovery from Superstorm Sandy
HIDE CAPTION
Elizabeth Flagler, a spokeswoman for LIPA, said in an e-mail to CNN, "We have reviewed the AGs subpoena and intend to comply with it in all respects."
Joy Faber, a spokeswoman for ConEd, said the company is cooperating with the investigation.
"We look forward to reviewing the company's storm preparations and response with the Attorney General and all interested parties," she said.
On Tuesday, a lawsuit was filed by two residents, claiming LIPA and its partner, National Grid, committed "gross negligence, breach of contract, and fraud," according to attorney Ken Mollins, who is representing the plaintiffs.
Also on Tuesday, amidst heavy criticism of his company's handling of the storm, Mike Hervey, chief operating officer of LIPa, said he would resign, effective at the end of the year.
It's a hard slog back to normalcy
Scammers create fake websites for Sandy victims
Sandy amplifies struggles for low-income families
CNN's Randi Iaboni contributed to this report
Boko Haram's leader, Abubakar Shekau, has said the 219 schoolgirls kidnapped from the remote town of Chibok in Nigeria's northeast in April have converted to ... Full story
Reports reaching us suggest that a multiple bomb explosion this morning rocked the Gombe Line Motor Park in Gombe, the Gombe state capital, killing at least ...
Burkina Faso's President Blaise Compaore is no longer in power, an army spokesman has told demonstrators in the capital, Ouagadougou. Mr Compaore had earlier said he ... Full story
Islamist Boko Haram militants have seized control of the northeast Nigerian town of Mubi, killing dozens of people and forcing thousands to flee, witnesses said. The ... Full story
Joy Williams, 23, from Thamesmead, was described as a 'caring and funny' girl who was 'loved by everybody. She died on October 23 after travelling to ... Full story
Soldiers in Nigeria's military may be working as moles for Boko Haram, giving the terrorist group vital information about the military's strategies and tactics. News site, ... Full story
Ebola is a lot easier to catch than health officials have admitted — and can be contracted by contact with a doorknob contaminated by a ... Full story
Hundreds of Nigerian soldiers are reportedly leaving the town of Mubi in Adamawa State, as members of the terrorists' group, Boko Haram, make advances to ... Full story
The end times are finally here. Some of the things we used to say can never happen in Nigeria are beginning to unfold and unfurl ... Full story
Chris Giwa, the Nigeria Football Association (NFA) Chairman who was restored to office on Thursday by a Jos court ruling, said on Monday that sacked ... Full story
He soon began to threaten me with a knife to have sex with him and when I refused, he brought out his gun, warning that ...