STORY HIGHLIGHTS
Long Island Power Authority and Consolidated Edison being investigated
New York Attorney General Eric Schneiderman's office subpoenaed LIPA and ConEd
Source: Office wants to know what they did to prepare and handle aftermath
LIPA and ConEd have indicated they will cooperate with the investigation
New York (CNN) -- New York Attorney General Eric Schneiderman is investigating whether New York utilities Long Island Power Authority and Consolidated Edison adequately prepared for and responded to Superstorm Sandy, according to a source with knowledge of the investigation.
On Wednesday, the attorney general's office subpoenaed LIPA and ConEd requesting information about what they did to brace their systems ahead of the storm and their management in its wake, the source said.
The investigation, which began November 5, is examining whether ConEd, as a publicly traded investor-owned utility company, breached the Public Service Law, which requires gas and electric companies to "supply safe and adequate service."
Honoré: Sandy recovery is stumbling
Schneiderman's office is questioning whether LIPA, which was created under the Public Authorities law, violated its legal obligations to ensure a safe and dependable flow of electricity.
The attorney general is also studying disclosure statements LIPA made to bondholders regarding the ability of their power systems to weather severe storms, the source said.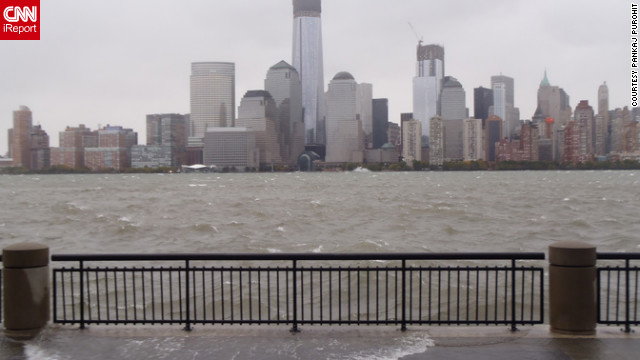 iReporter Pankaj Purohit lives five minutes from the boardwalk on Essex Street in Jersey City, New Jersey, which began flooding even before Superstorm Sandy's rains came.
What Sandy did to New Jersey
HIDE CAPTION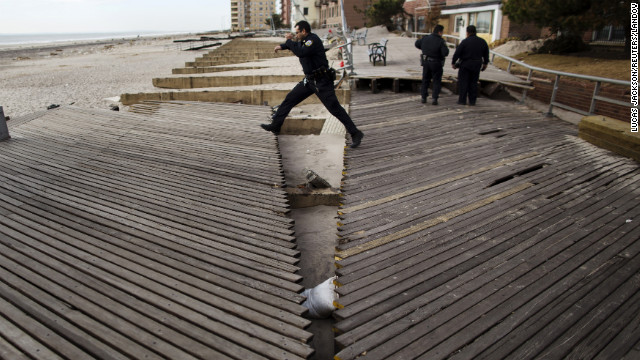 A New York police officer jumps over a large crack in a boardwalk in Brooklyn on Wednesday, November 14. The boardwalk was damaged by the storm surge from Hurricane Sandy. See photos of the immediate aftermath of Sandy.
Long, slow recovery from Superstorm Sandy
HIDE CAPTION
Elizabeth Flagler, a spokeswoman for LIPA, said in an e-mail to CNN, "We have reviewed the AGs subpoena and intend to comply with it in all respects."
Joy Faber, a spokeswoman for ConEd, said the company is cooperating with the investigation.
"We look forward to reviewing the company's storm preparations and response with the Attorney General and all interested parties," she said.
On Tuesday, a lawsuit was filed by two residents, claiming LIPA and its partner, National Grid, committed "gross negligence, breach of contract, and fraud," according to attorney Ken Mollins, who is representing the plaintiffs.
Also on Tuesday, amidst heavy criticism of his company's handling of the storm, Mike Hervey, chief operating officer of LIPa, said he would resign, effective at the end of the year.
It's a hard slog back to normalcy
Scammers create fake websites for Sandy victims
Sandy amplifies struggles for low-income families
CNN's Randi Iaboni contributed to this report
The brewing controversy surrounding the Europe tour of pop artiste, Orisefemi. is growing into uncontrollable proportions with the main actors throwing the punches of accusations ... Full story
The total debt of the Federal Government, the 36 states of the federation and the Federal Capital Territory rose from N8.32tn on September 30, 2013 ... Full story
Some Peoples Democratic Party's senators on Monday started impeachment moves against President Goodluck Jonathan over what they described as the high level of impunity and ... Full story
This is not the best of times for the Okoye family as they have reportedly lost their father. Pa Okoye is said to have passed away ... Full story
Stephanie Linus has released a statement addressing the rape allegations against her older brother, Daniel Okereke, who was arrested for allegedly molesting a UNILAG student ... Full story
At least three people were killed and 10 houses destroyed by armed youths who invaded Born Photo, Isale Osi, Idi Arere and Popoyemoja in Ibadan ... Full story
Many market men and women are feared dead after Boko Haram militants disguised as traders attacked a market in Damasak town in the Mobar Local ... Full story
This are indeed not the best times for koko master, and has a matter of fact this is the first time I am hearing D'banj ... Full story
In a Facebook post titled The Pot-bellied Creek Haramite And His Direct Threat, former Aviation minister Femi Fani Kayode slammed River State governor, Rotimi Amaechi, ...
At least 45 people were killed in a suspected Boko Haram attack in northeast Nigeria, officials and witnesses said on Thursday, in the latest violence ... Full story
A hateful roadside sign blaming Africa for disease and Barrack Obama was erected by a man near a highway in Minden, Nebraska, and was soon ... Full story