STORY HIGHLIGHTS
Long Island Power Authority and Consolidated Edison being investigated
New York Attorney General Eric Schneiderman's office subpoenaed LIPA and ConEd
Source: Office wants to know what they did to prepare and handle aftermath
LIPA and ConEd have indicated they will cooperate with the investigation
New York (CNN) -- New York Attorney General Eric Schneiderman is investigating whether New York utilities Long Island Power Authority and Consolidated Edison adequately prepared for and responded to Superstorm Sandy, according to a source with knowledge of the investigation.
On Wednesday, the attorney general's office subpoenaed LIPA and ConEd requesting information about what they did to brace their systems ahead of the storm and their management in its wake, the source said.
The investigation, which began November 5, is examining whether ConEd, as a publicly traded investor-owned utility company, breached the Public Service Law, which requires gas and electric companies to "supply safe and adequate service."
Honoré: Sandy recovery is stumbling
Schneiderman's office is questioning whether LIPA, which was created under the Public Authorities law, violated its legal obligations to ensure a safe and dependable flow of electricity.
The attorney general is also studying disclosure statements LIPA made to bondholders regarding the ability of their power systems to weather severe storms, the source said.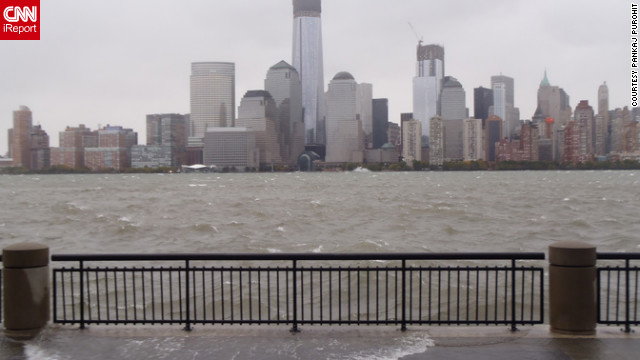 iReporter Pankaj Purohit lives five minutes from the boardwalk on Essex Street in Jersey City, New Jersey, which began flooding even before Superstorm Sandy's rains came.
What Sandy did to New Jersey
HIDE CAPTION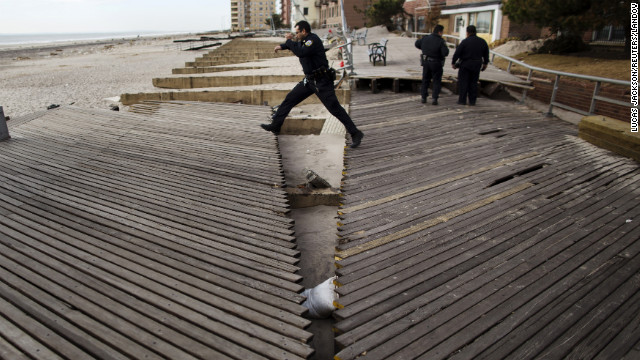 A New York police officer jumps over a large crack in a boardwalk in Brooklyn on Wednesday, November 14. The boardwalk was damaged by the storm surge from Hurricane Sandy. See photos of the immediate aftermath of Sandy.
Long, slow recovery from Superstorm Sandy
HIDE CAPTION
Elizabeth Flagler, a spokeswoman for LIPA, said in an e-mail to CNN, "We have reviewed the AGs subpoena and intend to comply with it in all respects."
Joy Faber, a spokeswoman for ConEd, said the company is cooperating with the investigation.
"We look forward to reviewing the company's storm preparations and response with the Attorney General and all interested parties," she said.
On Tuesday, a lawsuit was filed by two residents, claiming LIPA and its partner, National Grid, committed "gross negligence, breach of contract, and fraud," according to attorney Ken Mollins, who is representing the plaintiffs.
Also on Tuesday, amidst heavy criticism of his company's handling of the storm, Mike Hervey, chief operating officer of LIPa, said he would resign, effective at the end of the year.
It's a hard slog back to normalcy
Scammers create fake websites for Sandy victims
Sandy amplifies struggles for low-income families
CNN's Randi Iaboni contributed to this report
A Playboy model and former Miss Bosnia has been extradited after being linked with five murders and a string of robberies that netted millions. Brunette Slobodanka ... Full story
The Economic and Financial Crimes Commission has made an important inroad in its effort to trace and bring to justice the former Chairman of the ... Full story
Chris Brown reportedly stopped paying $10,000 a month in child support to Nia Guzman after the singer was denied visitation with his daughter this week. ... Full story
9 year old girl Splendour Joe Abisoye has written a book on terrorism which she titled 'Effects of Terrorism on Children'. Little Miss Splendour presented ... Full story
Corpses of the six pupils that died in the boat mishap in Ojo Local Government were yesterday recovered by the rescue teams and buried by ... Full story
The motorised boat which crushed the canoe conveying some pupils in Irewe, Ojo, Lagos State, killing six of them, was carrying stolen fuel, PUNCH Metro ... Full story
Chloe Mafia certainly aced her tennis outfit as she geared up for a very raunchy practice session. It looks like the fame-hungry star has picked up ... Full story
Sinitta had the sole intention of flashing some leg at RuPaul's Drag Race launch party in London last night - but not THIS much. The star ... Full story
Ace Nigerian DJ, Jimmy Adewale Amu, aka Jimmy Jatt,has said he doesn't mind playing at gay shows, as long as there is nothing attached to ... Full story
Suspected Boko Haram militants killed nearly 150 people in northeastern Nigerian villages, mowing down men and children while they prayed in mosques and shooting women ...
President Muhamadu Buhari on Thursday appointed Mr. Lawal Musa Daura as the new Director-General of the Department of State Security Service. He is to take over ...