STORY HIGHLIGHTS
Long Island Power Authority and Consolidated Edison being investigated
New York Attorney General Eric Schneiderman's office subpoenaed LIPA and ConEd
Source: Office wants to know what they did to prepare and handle aftermath
LIPA and ConEd have indicated they will cooperate with the investigation
New York (CNN) -- New York Attorney General Eric Schneiderman is investigating whether New York utilities Long Island Power Authority and Consolidated Edison adequately prepared for and responded to Superstorm Sandy, according to a source with knowledge of the investigation.
On Wednesday, the attorney general's office subpoenaed LIPA and ConEd requesting information about what they did to brace their systems ahead of the storm and their management in its wake, the source said.
The investigation, which began November 5, is examining whether ConEd, as a publicly traded investor-owned utility company, breached the Public Service Law, which requires gas and electric companies to "supply safe and adequate service."
Honoré: Sandy recovery is stumbling
Schneiderman's office is questioning whether LIPA, which was created under the Public Authorities law, violated its legal obligations to ensure a safe and dependable flow of electricity.
The attorney general is also studying disclosure statements LIPA made to bondholders regarding the ability of their power systems to weather severe storms, the source said.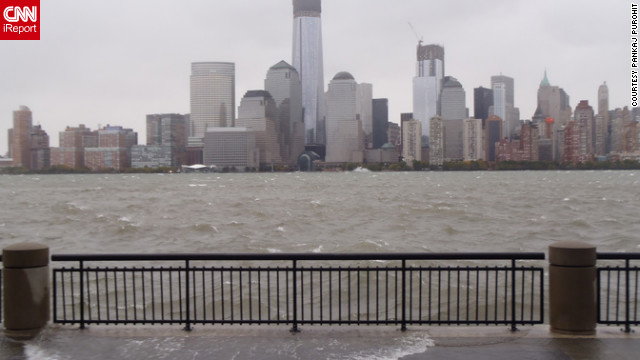 iReporter Pankaj Purohit lives five minutes from the boardwalk on Essex Street in Jersey City, New Jersey, which began flooding even before Superstorm Sandy's rains came.
What Sandy did to New Jersey
HIDE CAPTION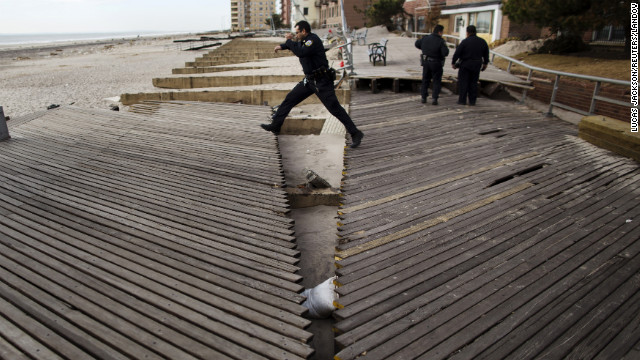 A New York police officer jumps over a large crack in a boardwalk in Brooklyn on Wednesday, November 14. The boardwalk was damaged by the storm surge from Hurricane Sandy. See photos of the immediate aftermath of Sandy.
Long, slow recovery from Superstorm Sandy
HIDE CAPTION
Elizabeth Flagler, a spokeswoman for LIPA, said in an e-mail to CNN, "We have reviewed the AGs subpoena and intend to comply with it in all respects."
Joy Faber, a spokeswoman for ConEd, said the company is cooperating with the investigation.
"We look forward to reviewing the company's storm preparations and response with the Attorney General and all interested parties," she said.
On Tuesday, a lawsuit was filed by two residents, claiming LIPA and its partner, National Grid, committed "gross negligence, breach of contract, and fraud," according to attorney Ken Mollins, who is representing the plaintiffs.
Also on Tuesday, amidst heavy criticism of his company's handling of the storm, Mike Hervey, chief operating officer of LIPa, said he would resign, effective at the end of the year.
It's a hard slog back to normalcy
Scammers create fake websites for Sandy victims
Sandy amplifies struggles for low-income families
CNN's Randi Iaboni contributed to this report
INEC just announced via its newly created Twitter account for alerts @INECAlert that elections will be postponed till tomorrow in some polling units. This affects ... Full story
There was pandemonium today as two bombs were detonated at the WTC primary school polling station in Enugu North local government area by operatives of ... Full story
A man who fell in love with a woman sixty years older than himself has told of his special relationship with her that transcended age. It ... Full story
A young boy clearly under the age of 18 had just been photographed by a voter in Katsina state getting his finger prints read by ... Full story
May D has confirmed to HipTv that he has moved on from his babymama and he is definitely single and still browsing (using the exact ... Full story
Reports emerging from Nigeria indicate that all might not be well with Emmy Kosgey following the history of her rich pastor husband with women. A ... Full story
Jennifer Lopez and toyboy Casper Smart are supposedly back together after the couple were spotted kissing backstage at her American Idol season 14 taping in ... Full story
Our celebrities seem to be really eager to show their fans ways of being a patriotic Nigerians. Some of them are already out queuing to cast ... Full story
Omoni Oboli, Nollywood diva and mother of three awesome boys also has some piece of advise for Nigerians as they cast their votes today. The delectable ... Full story
The 2015 presidential elections have kicked off and so far it has been going on peacefully except in some states such as Enugu and Osun ... Full story
Accreditation of Voters is underway at Kofar Baru 3 in Sarkin Yara "A" in Daura Local Government Area. Of Katsina State. Presidential candidate of All Progressives ...