STORY HIGHLIGHTS
Long Island Power Authority and Consolidated Edison being investigated
New York Attorney General Eric Schneiderman's office subpoenaed LIPA and ConEd
Source: Office wants to know what they did to prepare and handle aftermath
LIPA and ConEd have indicated they will cooperate with the investigation
New York (CNN) -- New York Attorney General Eric Schneiderman is investigating whether New York utilities Long Island Power Authority and Consolidated Edison adequately prepared for and responded to Superstorm Sandy, according to a source with knowledge of the investigation.
On Wednesday, the attorney general's office subpoenaed LIPA and ConEd requesting information about what they did to brace their systems ahead of the storm and their management in its wake, the source said.
The investigation, which began November 5, is examining whether ConEd, as a publicly traded investor-owned utility company, breached the Public Service Law, which requires gas and electric companies to "supply safe and adequate service."
Honoré: Sandy recovery is stumbling
Schneiderman's office is questioning whether LIPA, which was created under the Public Authorities law, violated its legal obligations to ensure a safe and dependable flow of electricity.
The attorney general is also studying disclosure statements LIPA made to bondholders regarding the ability of their power systems to weather severe storms, the source said.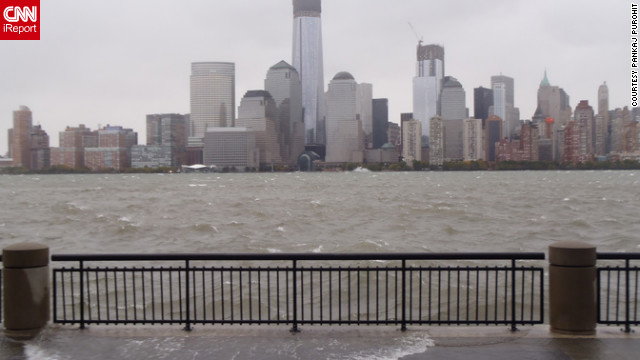 iReporter Pankaj Purohit lives five minutes from the boardwalk on Essex Street in Jersey City, New Jersey, which began flooding even before Superstorm Sandy's rains came.
What Sandy did to New Jersey
HIDE CAPTION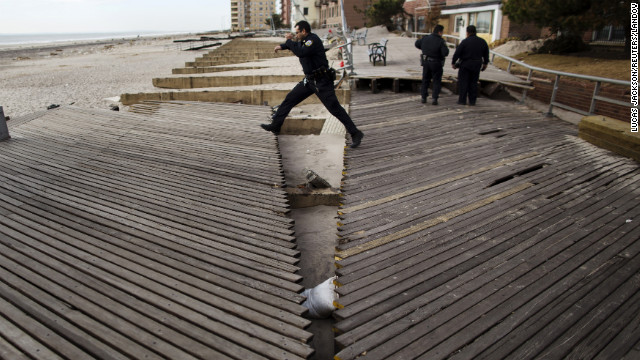 A New York police officer jumps over a large crack in a boardwalk in Brooklyn on Wednesday, November 14. The boardwalk was damaged by the storm surge from Hurricane Sandy. See photos of the immediate aftermath of Sandy.
Long, slow recovery from Superstorm Sandy
HIDE CAPTION
Elizabeth Flagler, a spokeswoman for LIPA, said in an e-mail to CNN, "We have reviewed the AGs subpoena and intend to comply with it in all respects."
Joy Faber, a spokeswoman for ConEd, said the company is cooperating with the investigation.
"We look forward to reviewing the company's storm preparations and response with the Attorney General and all interested parties," she said.
On Tuesday, a lawsuit was filed by two residents, claiming LIPA and its partner, National Grid, committed "gross negligence, breach of contract, and fraud," according to attorney Ken Mollins, who is representing the plaintiffs.
Also on Tuesday, amidst heavy criticism of his company's handling of the storm, Mike Hervey, chief operating officer of LIPa, said he would resign, effective at the end of the year.
It's a hard slog back to normalcy
Scammers create fake websites for Sandy victims
Sandy amplifies struggles for low-income families
CNN's Randi Iaboni contributed to this report
Suspected Boko Haram militants have killed at least 45 people in a village in Borno state, north-east Nigeria, witnesses have said. The gunmen who stormed Njaba ... Full story
Two Germans have been sentenced to nine months in prison and three strokes of the cane in Singapore for breaking into a depot and spray-painting ... Full story
Just a few days after Davido told a fan on Twitter that his other talent apart from music is love making, the HKN star is ... Full story
A horrific image has emerged showing the gaping wound inflicted on the U.S. Abmassador to South Korea's face after a furious activist slashed it open ... Full story
Master of traditional hair ties, Segun Gele yesterday spoke on Sahara Radio live. Mr Segun says he knows a lot of people doubt is s3xuality, ... Full story
Reports published by The Will, a United States online news medium yesterday has suggested that, a former Chief Justice of Nigeria's son may have joined ... Full story
Chadian President, Idriss Deby on Wednesday said that he knew the whereabouts of Abubakar Shekau, the leader of the militant group Boko Haram, and further ... Full story
Actor and comedian Saeed Mohammed aka Funky Mallam says he survived food poisoning while on set of a movie location in Ikorodu three days ago. ... Full story
Hajia Maryam Abacha, matriarch of the Abacha family, yesterday marked her 68th birthday in a low key event at the Le Meridien Hotel Douala in ...
My picture and that of my daughter, Purity in a Lagos train has surfaced online and quite a number of people have asked me what ... Full story
The Home Office was accused of relying on "highly offensive" and "outdated" views of sexuality to reject an asylum claim made by a Nigerian lesbian. Aderonke ... Full story