STORY HIGHLIGHTS
Long Island Power Authority and Consolidated Edison being investigated
New York Attorney General Eric Schneiderman's office subpoenaed LIPA and ConEd
Source: Office wants to know what they did to prepare and handle aftermath
LIPA and ConEd have indicated they will cooperate with the investigation
New York (CNN) -- New York Attorney General Eric Schneiderman is investigating whether New York utilities Long Island Power Authority and Consolidated Edison adequately prepared for and responded to Superstorm Sandy, according to a source with knowledge of the investigation.
On Wednesday, the attorney general's office subpoenaed LIPA and ConEd requesting information about what they did to brace their systems ahead of the storm and their management in its wake, the source said.
The investigation, which began November 5, is examining whether ConEd, as a publicly traded investor-owned utility company, breached the Public Service Law, which requires gas and electric companies to "supply safe and adequate service."
Honoré: Sandy recovery is stumbling
Schneiderman's office is questioning whether LIPA, which was created under the Public Authorities law, violated its legal obligations to ensure a safe and dependable flow of electricity.
The attorney general is also studying disclosure statements LIPA made to bondholders regarding the ability of their power systems to weather severe storms, the source said.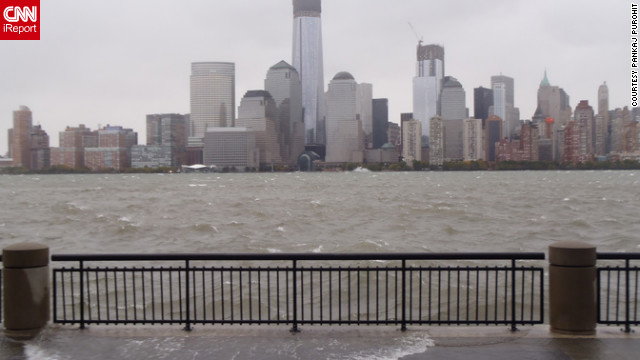 iReporter Pankaj Purohit lives five minutes from the boardwalk on Essex Street in Jersey City, New Jersey, which began flooding even before Superstorm Sandy's rains came.
What Sandy did to New Jersey
HIDE CAPTION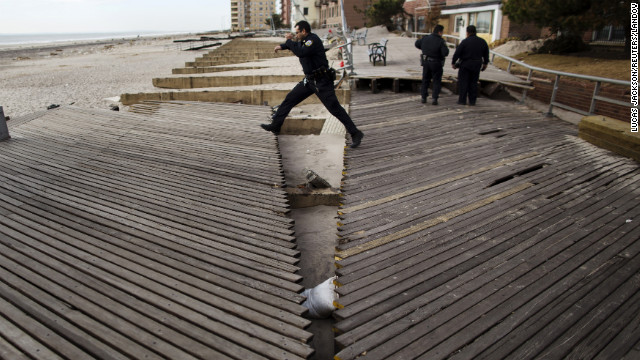 A New York police officer jumps over a large crack in a boardwalk in Brooklyn on Wednesday, November 14. The boardwalk was damaged by the storm surge from Hurricane Sandy. See photos of the immediate aftermath of Sandy.
Long, slow recovery from Superstorm Sandy
HIDE CAPTION
Elizabeth Flagler, a spokeswoman for LIPA, said in an e-mail to CNN, "We have reviewed the AGs subpoena and intend to comply with it in all respects."
Joy Faber, a spokeswoman for ConEd, said the company is cooperating with the investigation.
"We look forward to reviewing the company's storm preparations and response with the Attorney General and all interested parties," she said.
On Tuesday, a lawsuit was filed by two residents, claiming LIPA and its partner, National Grid, committed "gross negligence, breach of contract, and fraud," according to attorney Ken Mollins, who is representing the plaintiffs.
Also on Tuesday, amidst heavy criticism of his company's handling of the storm, Mike Hervey, chief operating officer of LIPa, said he would resign, effective at the end of the year.
It's a hard slog back to normalcy
Scammers create fake websites for Sandy victims
Sandy amplifies struggles for low-income families
CNN's Randi Iaboni contributed to this report
The All Progressives Congress in Niger State on Sunday said it will only consider the apology by the state Governor, Dr. Muazu Babangida Aliyu, as ... Full story
A 10-year-old girl, Chidinma, has been admitted at an undisclosed hospital after a couple – Eucheria Chukwuma and Jerry Oko-Oboh – allegedly beat her up ... Full story
Several rumours have been sprouting all around the internet about female artist, Emma Nyra and she is definitely not okay with them. So in her ... Full story
Oritsefemi might be a victim of social media hacking after a certain 'someone' gained access into his Instagram account and leaked his DMs in the ... Full story
A shocking report by Timeslive.co.za depicting the evils of the xenophobic attacks currently going on in South Africa, where locals are killing Africans staying in ... Full story
A Zimbabwean woman, Mrs Naume Garusa (41) featured image above, has become the latest victim of horrific xenophobic attacks after her body was found with ... Full story
The police in Lagos have apprehended a gang of armed robbers that specialises in snatching motorcycles and money from riders at gunpoint. According to the police, ... Full story
IT sounds unbelievable, but from the account of 19-year-old Kehinde Adegoke, it really happened. The teenager who is an indigene of Ogbomoso in Oyo State, ... Full story
An elderly woman from ‪South Africa explains why they want the foreigners especially NIGERIANS out of the area...WATCH THE SHOCKING VIDEO ...
Following the defeat suffered by President Goodluck Jonathan and his party, the Peoples Democratic Party, during the March 28 and April 11 elections, the President ...
Actress, Nzube Onyia, is one hell of a lucky gal! She was riding with late actor, Clem Onyeka, that fateful day last year in Asaba, ... Full story