STORY HIGHLIGHTS
Long Island Power Authority and Consolidated Edison being investigated
New York Attorney General Eric Schneiderman's office subpoenaed LIPA and ConEd
Source: Office wants to know what they did to prepare and handle aftermath
LIPA and ConEd have indicated they will cooperate with the investigation
New York (CNN) -- New York Attorney General Eric Schneiderman is investigating whether New York utilities Long Island Power Authority and Consolidated Edison adequately prepared for and responded to Superstorm Sandy, according to a source with knowledge of the investigation.
On Wednesday, the attorney general's office subpoenaed LIPA and ConEd requesting information about what they did to brace their systems ahead of the storm and their management in its wake, the source said.
The investigation, which began November 5, is examining whether ConEd, as a publicly traded investor-owned utility company, breached the Public Service Law, which requires gas and electric companies to "supply safe and adequate service."
Honoré: Sandy recovery is stumbling
Schneiderman's office is questioning whether LIPA, which was created under the Public Authorities law, violated its legal obligations to ensure a safe and dependable flow of electricity.
The attorney general is also studying disclosure statements LIPA made to bondholders regarding the ability of their power systems to weather severe storms, the source said.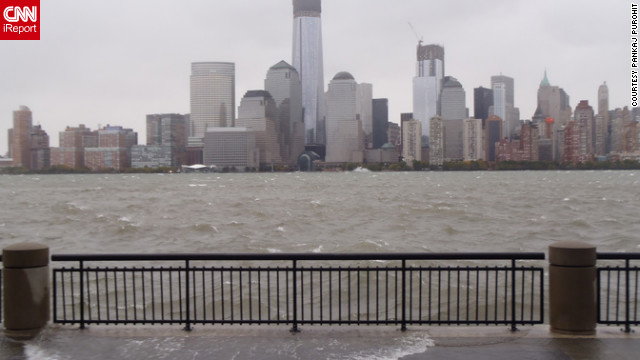 iReporter Pankaj Purohit lives five minutes from the boardwalk on Essex Street in Jersey City, New Jersey, which began flooding even before Superstorm Sandy's rains came.
What Sandy did to New Jersey
HIDE CAPTION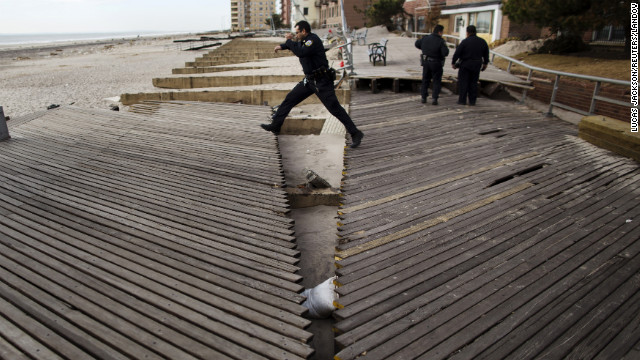 A New York police officer jumps over a large crack in a boardwalk in Brooklyn on Wednesday, November 14. The boardwalk was damaged by the storm surge from Hurricane Sandy. See photos of the immediate aftermath of Sandy.
Long, slow recovery from Superstorm Sandy
HIDE CAPTION
Elizabeth Flagler, a spokeswoman for LIPA, said in an e-mail to CNN, "We have reviewed the AGs subpoena and intend to comply with it in all respects."
Joy Faber, a spokeswoman for ConEd, said the company is cooperating with the investigation.
"We look forward to reviewing the company's storm preparations and response with the Attorney General and all interested parties," she said.
On Tuesday, a lawsuit was filed by two residents, claiming LIPA and its partner, National Grid, committed "gross negligence, breach of contract, and fraud," according to attorney Ken Mollins, who is representing the plaintiffs.
Also on Tuesday, amidst heavy criticism of his company's handling of the storm, Mike Hervey, chief operating officer of LIPa, said he would resign, effective at the end of the year.
It's a hard slog back to normalcy
Scammers create fake websites for Sandy victims
Sandy amplifies struggles for low-income families
CNN's Randi Iaboni contributed to this report
Of the 246,853 candidates who sat for the November/December 2014 West African Senior School Certificate Examination, only 72,522 candidates, representing 29.37 per cent, obtained credits ... Full story
Well, Mr. Ibu seems to have lost quite a lot of weight lately! Most likely for height reasons, he's channelling Rick Ross ... Full story
Multiple sources have it that Boko Haram, the deadly sect waging an insurgency against the state have killed 32 people in Borno State, and kidnapped ... Full story
Former Accountant-General of Bauchi State, Alhaji Bappa Tilde who was abducted last Saturday has been killed. According to residents, Tilde, 72, was brought by his abductors ... Full story
A man who was remanded in prison for attempting to steal his brother's money from an ATM has died due to the ineptitude of prison ... Full story
So, Seyi Shay and Wizkid featured in this new video titled 'Crazy', and Seyi Shay seems to have done something very crazy; she grabbed Wizkid's ... Full story
The couple brutalized by a police corporal in Lagos, Ejeh and Grace Smith, is suing the police authorities for damages. The Lagos couple that was brutalized ... Full story
Boko Haram insurgents kidnapped at least 185 women and children, and killed 32 people in a raid in northeastern Nigeria this week, local officials and ... Full story
Gospel singer, Kenny Saint Brown does not believe she lost out in the APC primary elections but rather her mandate was stolen Gospel singer, Kenny Saint ... Full story
Boko Haram leader, Abubakar Shekau, has threatened to attack the Emir of Kano, Muhammadu Sanusi II, in retaliation for the Emir's call on Kano residents ...
The police have arrested other six cops at the scene of the torture of a couple in the Lekki area of Lagos State. A police source ... Full story