STORY HIGHLIGHTS
Typhoon Bopha has so far killed 647 people in the Philippines
A another 780 people are missing, including hundreds of fishermen
Relief agencies are trying to help the thousands of people left homeless by the storm
(CNN) -- Rescue workers are searching for more than 300 Filipino fishermen who have gone missing after a devastating typhoon that tore across the Philippines last week, killing more than 600 people, authorities said Monday.
Typhoon Bopha, the strongest tropical cyclone to hit the Philippines this year, set off flash floods and landslides that engulfed people sheltering in their rickety houses in remote, unprepared regions on the southern island of Mindanao.
Read more: Rescuers struggle to aid Philippines storm victims
The number of people still unaccounted for climbed sharply during the weekend as officials learned of the disappearance of boatloads of fishermen who set off before Typhoon Bopha slammed into the east coast of Mindanao on Tuesday.
Rescue efforts are under way to try to find the missing fishermen, many of whom left from the port city of General Santos on the south coast of Mindanao, said Maj. Reynaldo Balido, military assistant for operations at the Philippine Office of Civil Defense.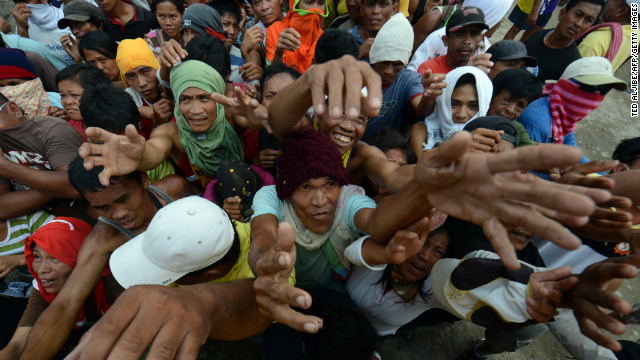 Victims of Typhoon Bopha jostle for position as they beg for relief food in New Bataan in Compostela Valley province on Sunday, December 9. Typhoon Bopha is the strongest cyclone to hit the Phillipines in decades, leaving hundreds dead and missing.
Deadly flooding in the Philippines
HIDE CAPTION
A total 780 people are missing in the Philippines as a whole, the National Disaster Risk Reduction and Management Council, the country's emergency management agency, said Monday.
Read more: Devastation in a Philippine valley where typhoons aren't expected
That includes the fishermen and more than 400 people in New Bataan, a town in southeastern Mindanao where flash floods triggered by Bopha's heavy rain buried large areas under mud, rocks and trees.
The overwhelming majority of the 647 people killed by the typhoon are from the regions of Davao Oriental and Compostela Valley, where New Bataan is situated.
Many people in those areas failed to anticipate Bopha, known locally as Pablo, the strongest storm to hit Mindanao in decades. The island experiences fewer tropical cyclones than the regions of the Philippines further north.
Survivors are now struggling to find enough water, food and shelter. Relief agencies are scrambling to provide help to the worst hit areas, but damage to infrastructure like roads and communications networks is complicating their task.
The scale of the challenge facing them is huge: nearly 1,500 people have been injured and more than 300,000 have been forced to seek shelter in evacuation centers or elsewhere.
Philippine President Benigno Aquino III, who visited New Bataan and other severely affected areas Friday, has declared a state of national calamity, which releases emergency funds and puts price controls on basic goods.
Joy Williams, 23, from Thamesmead, was described as a 'caring and funny' girl who was 'loved by everybody. She died on October 23 after travelling to ... Full story
Soldiers in Nigeria's military may be working as moles for Boko Haram, giving the terrorist group vital information about the military's strategies and tactics. News site, ... Full story
Ebola is a lot easier to catch than health officials have admitted — and can be contracted by contact with a doorknob contaminated by a ... Full story
Hundreds of Nigerian soldiers are reportedly leaving the town of Mubi in Adamawa State, as members of the terrorists' group, Boko Haram, make advances to ... Full story
The end times are finally here. Some of the things we used to say can never happen in Nigeria are beginning to unfold and unfurl ... Full story
Chris Giwa, the Nigeria Football Association (NFA) Chairman who was restored to office on Thursday by a Jos court ruling, said on Monday that sacked ... Full story
He soon began to threaten me with a knife to have sex with him and when I refused, he brought out his gun, warning that ...
Nollywood actor and model, Kenneth Okolie, has disclosed that dating an actress is the worst mistake an actor can make. The former Mr. Nigeria, who is ...
Contrary to what the bible says that a man shall leave his father and mother and hold fast to his wife, and the two shall ... Full story
The South African police have confirmed that its national football team's captain and goalkeeper, Senzo Meyiwa, 27, have died after being shot at his home ... Full story
The General Overseer of Synagogue Church Of All Nations, Prophet T.B Joshua has said through the church spokesperson, Kirsten nematandani that, the church will be ... Full story