STORY HIGHLIGHTS
Typhoon Bopha has so far killed 647 people in the Philippines
A another 780 people are missing, including hundreds of fishermen
Relief agencies are trying to help the thousands of people left homeless by the storm
(CNN) -- Rescue workers are searching for more than 300 Filipino fishermen who have gone missing after a devastating typhoon that tore across the Philippines last week, killing more than 600 people, authorities said Monday.
Typhoon Bopha, the strongest tropical cyclone to hit the Philippines this year, set off flash floods and landslides that engulfed people sheltering in their rickety houses in remote, unprepared regions on the southern island of Mindanao.
Read more: Rescuers struggle to aid Philippines storm victims
The number of people still unaccounted for climbed sharply during the weekend as officials learned of the disappearance of boatloads of fishermen who set off before Typhoon Bopha slammed into the east coast of Mindanao on Tuesday.
Rescue efforts are under way to try to find the missing fishermen, many of whom left from the port city of General Santos on the south coast of Mindanao, said Maj. Reynaldo Balido, military assistant for operations at the Philippine Office of Civil Defense.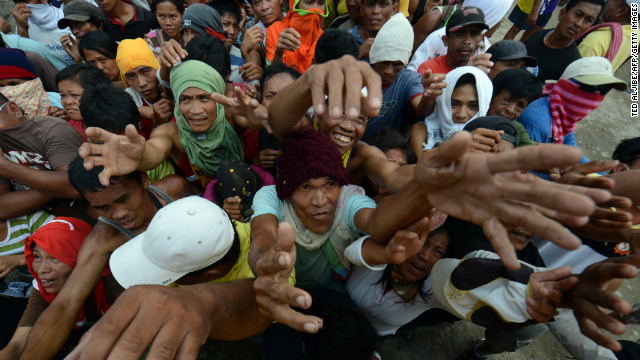 Victims of Typhoon Bopha jostle for position as they beg for relief food in New Bataan in Compostela Valley province on Sunday, December 9. Typhoon Bopha is the strongest cyclone to hit the Phillipines in decades, leaving hundreds dead and missing.
Deadly flooding in the Philippines
HIDE CAPTION
A total 780 people are missing in the Philippines as a whole, the National Disaster Risk Reduction and Management Council, the country's emergency management agency, said Monday.
Read more: Devastation in a Philippine valley where typhoons aren't expected
That includes the fishermen and more than 400 people in New Bataan, a town in southeastern Mindanao where flash floods triggered by Bopha's heavy rain buried large areas under mud, rocks and trees.
The overwhelming majority of the 647 people killed by the typhoon are from the regions of Davao Oriental and Compostela Valley, where New Bataan is situated.
Many people in those areas failed to anticipate Bopha, known locally as Pablo, the strongest storm to hit Mindanao in decades. The island experiences fewer tropical cyclones than the regions of the Philippines further north.
Survivors are now struggling to find enough water, food and shelter. Relief agencies are scrambling to provide help to the worst hit areas, but damage to infrastructure like roads and communications networks is complicating their task.
The scale of the challenge facing them is huge: nearly 1,500 people have been injured and more than 300,000 have been forced to seek shelter in evacuation centers or elsewhere.
Philippine President Benigno Aquino III, who visited New Bataan and other severely affected areas Friday, has declared a state of national calamity, which releases emergency funds and puts price controls on basic goods.
The police have arrested other six cops at the scene of the torture of a couple in the Lekki area of Lagos State. A police source ... Full story
Maheeda is dreaming of sleeping with President Goodluck Jonathan! We will never stop hearing and amazing at what Naija Bad Girl, Caroline Sam, aka Maheeda, would ... Full story
What a sad end for a lady who would have been married in February next year as she jumped from a speeding vehicle to her ... Full story
The Lagos state Police command is currently investigating the murder of a leading insurance practitioner and lawyer, Mrs Ola Adeola who was found dead with ... Full story
A Senior Special Assistant to President Goodluck Jonathan, Doyin Okupe, says the President is just like Jesus Christ.He said the burden Jesus carried when he ... Full story
Alhaji Mujahid Dokubo-Asari, one of the biggest supporters and kinsman of President Goodluck Ebele Jonathan, has declared that the president has lost the support of ... Full story
Cynthia Morgan literally set the stage on fire with her energetic perforance of Ï'm taken "at the Headies last night..However, her bosom threathened to spill ... Full story
A callous son is in the dock for masterminding the gruesome murder of his mother and sisters.How wicked can a son be to murder his ... Full story
A teenager who belongs to a cult group is in trouble for organising his friends to gang-rape his girlfriend.An 18-year-old teenage boy, Oluwole Seyi, a ... Full story
A former President, Olusegun Obasanjo has said that he had no knowledge of his late wife, Stella's plan to undergo the cosmetic procedure that led ... Full story
There have been reports that delectable actress, Stella Damasus snatched Daniel Ademinokan from his pretty wife, Doris Simeon. But since then, the actress has kept ...