STORY HIGHLIGHTS
First born babies are less likely to arrive on time
Mothers may also be more likely to deliver late if overdue pregnancies run in the family
Excitement about the royal baby's arrival has been growing
(CNN) -- The world is eagerly waiting to hear news of the birth of the royal baby. A royal source told CNN that the due date was Saturday, July 13, which would mean that the Duchess of Cambridge is several days overdue.
Why is it taking the future prince or princess of Cambridge so long to arrive?
First-born babies are less likely to arrive on time -- they're either too early or too late, studies have found. A normal pregnancy lasts about 40 weeks, according to the American College of Obstetricians and Gynecologists. After 42 weeks, the pregnancy is considered to be post term. However, doctors usually induce labor before the pregnancy reaches this stage.
Royal babies: Five things you didn't know
Doctors predict the due date by noting the first day of the mother's last period, as well as measuring the size of her uterus early on in the pregnancy. However, differences in menstrual cycles and inaccuracies in remembering the actual date of the mother's last period make predicting a due date more of an art than a science.
"Often, there is a miscalculation of the due date in the first place," Dr. Neil Sloane, clinical director for obstetrics and gynecology at Delaware Valley Health in Philadelphia, noted. "And when we examine a supposedly overdue baby, they don't look like they're overdue."
Mothers may also be more likely to deliver late if overdue pregnancies run in the family. "Family history of overdue pregnancies is a stronger predictor than whether or not it is a first-time mother," said Dr. Daniela Carusi, director of general gynecology and surgical obstetrics at Brigham and Women's Hospital in Boston.
By the numbers: Royal births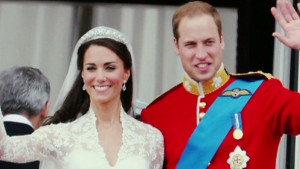 "Will and Kate Plus One" sneak peek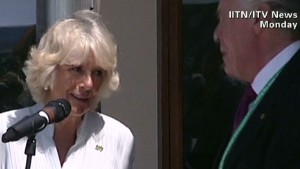 Royal baby watch
She added that "People who have the most accurate due dates are those that have IVF, because they know exactly when the baby was conceived."
As pregnancies progress beyond the due date, both mother and baby could face health risks as the placenta ages and the amount of amniotic fluid decreases. Both of these events could possibly lead to the baby receiving less oxygen and nutrients.
Excitement about the baby's arrival has been growing ever since Kate was hospitalized for morning sickness, with royals and non-royals alike speculating on names and gender.
Royal baby birth: Everything you ever wanted to know
The waiting game continues as the world watches outside the gates of Buckingham Palace until royal officials announce the birth of the next heir to the throne.

Part of complete coverage on
updated 12:57 PM EDT, Wed July 10, 2013

The Duchess of Cambridge is due to give birth to her first baby any day now, so what will happen once the baby arrives?
updated 4:22 PM EDT, Wed July 17, 2013

Think you know all you could ever want to about royal babies amid all the excitement about the new arrival? Well did you know this...
updated 5:42 AM EDT, Fri July 5, 2013

Britain's royals are a pretty traditional bunch when it comes to picking baby names -- so what are the chances of a Queen Ella or King Terry?

Confused by who's linked to who in the royal family? Explore the Middleton and Windsor branches of our interactive family tree.
updated 5:32 AM EDT, Tue July 16, 2013

Whenever a new baby is on the way, everyone speculates on what the little one might look like. So will the royal tot take after mom or dad?
updated 12:04 PM EDT, Wed July 10, 2013

As the world awaits the arrival of the newest royal baby, here's a look at some interesting statistics about royal births in Britain.
updated 3:02 PM EDT, Fri July 5, 2013

There's a treat in store for anyone in Britain whose baby arrives on the same day Catherine delivers a royal heir -- the gift of a silver coin.
updated 10:56 AM EDT, Mon July 8, 2013

All eyes have been on the Duchess of Cambridge since she and Prince William announced they were expecting a baby.
updated 7:35 AM EDT, Wed July 3, 2013

Perhaps Henry VIII should have been watching what his many wives ate if he wanted to improve his odds of having sons.
updated 1:48 PM EDT, Thu July 4, 2013

The world watched when they were married in the wedding of the year -- now all eyes are on William and Kate ahead of their new arrival.
updated 9:58 AM EDT, Tue June 25, 2013

As well as being wonderful news for the royal couple the new baby will have positive implications for the future of the UK monarchy.
updated 2:11 PM EDT, Mon July 15, 2013

Prince William has spent decades in the public eye. Follow the royal's life in pictures, from baby to proud father-to-be.
updated 10:07 AM EDT, Tue June 25, 2013

Changes to the law mean Prince William and Catherine's new baby will be heir to the British throne, whether it is a boy or a girl.
updated 9:56 AM EDT, Tue June 25, 2013

Catherine has proved quite the fashionista since being catapulted into the limelight thanks to her appearance in a university catwalk show.

Get all the latest news, photos and videos on Kate and William's baby and the rest of the royal family.


Joy Williams, 23, from Thamesmead, was described as a 'caring and funny' girl who was 'loved by everybody. She died on October 23 after travelling to ... Full story
Soldiers in Nigeria's military may be working as moles for Boko Haram, giving the terrorist group vital information about the military's strategies and tactics. News site, ... Full story
Ebola is a lot easier to catch than health officials have admitted — and can be contracted by contact with a doorknob contaminated by a ... Full story
Hundreds of Nigerian soldiers are reportedly leaving the town of Mubi in Adamawa State, as members of the terrorists' group, Boko Haram, make advances to ... Full story
The end times are finally here. Some of the things we used to say can never happen in Nigeria are beginning to unfold and unfurl ... Full story
Chris Giwa, the Nigeria Football Association (NFA) Chairman who was restored to office on Thursday by a Jos court ruling, said on Monday that sacked ... Full story
He soon began to threaten me with a knife to have sex with him and when I refused, he brought out his gun, warning that ...
Nollywood actor and model, Kenneth Okolie, has disclosed that dating an actress is the worst mistake an actor can make. The former Mr. Nigeria, who is ...
Contrary to what the bible says that a man shall leave his father and mother and hold fast to his wife, and the two shall ... Full story
The South African police have confirmed that its national football team's captain and goalkeeper, Senzo Meyiwa, 27, have died after being shot at his home ... Full story
The General Overseer of Synagogue Church Of All Nations, Prophet T.B Joshua has said through the church spokesperson, Kirsten nematandani that, the church will be ... Full story