It should come as no surprise that Gigi Hadid has landed yet another major fashion campaign. However, for her latest gig the 20-year-old isn't even wearing clothes -- she's completely naked in the Stuart Weitzman Spring 2016 ad.
Ms. Hadid and fellow supermodels Joan Smalls and Lily Aldridge have stripped down to their birthday suits for the luxury shoe brand. The trio was captured by famed fashion photographer Mario Testino in nothing but a pair of Stuart Weitzman Nearly Nude sandals -- the block-heel spinoff of the company's iconic Nudist stiletto.
The stunning black-and-white image reminds us of Herb Ritts' famous photo taken in 1989 of legendary models Cindy Crawford, Naomi Campbell, Stephanie Seymour, Christy Turlington and Tatjana Patitz, all huddled up in the nude.
This isn't the first time the ladies have bared it all. Hadid showed off her fabulous figure for Tom Ford's Velvet Orchid fragrance ad. Smalls has striped down for the famous Pirelli calendar. And Aldridge posed nude in Russell James' book "Angels."
Weitzman, the New York City-based designer behind the brand, said in a press release that beyond their beauty the ladies were chosen because of their "social relevance and fashion-forward trendsetter statuses." That's certainly true considering they have 13.6 million Instagram followers combined.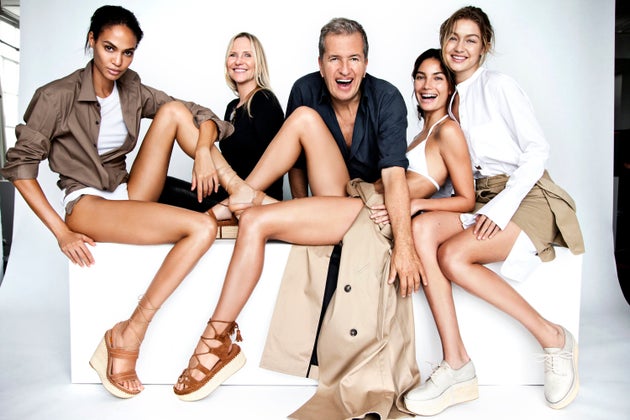 Mario Testino behind-the-scenes with Smalls, Alridge and Hadid at the Stuart Weitzman Spring 2016 campaign shoot.
The bombshells are replacing Gisele Bündchen, who fronted the Fall 2015 campaign and starred in Stuart Weitzman's first-ever commercial. While we'll miss seeing Ms. Bündchen dancing around in the designer shoes, we're excited for this new gaggle of gals.
And Weitzman is just as pumped about the new campaign as we are. "I am leaving for Spain tonight -- because after I saw the images of the girls in those shoes I was inspired to create the next collection," Weitzman told The Huffington Post.