---
---
Multiple award-winning Nollywood actress, Iyabo Ojo whose business conglomerate is fast growing is dreaming of stepping into the oil and gas sector. In this interview with DESMOND EKWUEME, she speaks on her new interest among other issues.
How is your new line of business the Abula Spot eatery moving?
To God be the glory. Our aim has not been defeated. We are satisfied with the level of progress so far recorded and we know there is huge potential for the business to thrive.
Who are the we, you are referring to?
The owners of the business group.  Perhaps you don't know that the umbrella company is FESPRIS WORLD an acronym for Festus and Prisilia, my children. Together we own the group because they are my pillar, source of inspiration and strength.
When do you hope to open other branches of Abula Spot?
The one we are talking about is in Lekki Phase 1. It was opened last year, precisely on September 24th. We are still growing and monitoring the business development. With time, we will know if it is necessary to open up branches and when to open up the branches. We deliberately chose Lekki Phase 1 for Abula Spot/Restaurant, Bar, Lounge and Spa because there is the need for this line of business in the area. Some high profile personalities who for instance want to have a feel or taste of local or traditional delicacy like Amala with Gbegiri, Ewedu and what we call assorted kind of meat, but, cannot find this delicacy. That informed our interest, desire and move to establish this eatery plus spa. So as we grow and there is need in other areas like Lekki we may expand the business.
You have a clothing range,  a fashion outfit,  a salon outfit in Ikeja and now an eatery cum restaurant, lounge and spa. You are fast becoming a conglomerate. What is next for Iyabo Ojo?
You never can tell. May be, I will venture into oil and gas soonest if the business environment and my financial muscle per-nits. One just has to keep diversifying as the need arises. Like we say in local parlance, you cannot watch a masquerade standing or sitting in one position. If a country like ours can be preaching the gospel of diversifying our economy, then, individuals have no choice to ensure ends meet.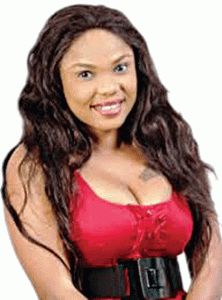 Your colleagues have often described you as one of the biggest girls in your industry. How big is Iyabo Ojo?
Like you already know I am diminutive physically but very large at heart. I think very positively. I think good and big. I work round the clock.  My staff will always tell you that I am workaholic. I don't take excuses. I fear failure. I have never failed since I started my own things. I must appreciate God Almighty for putting seal of success to whatever I set out to achieve. I think that answers your question.
You once told me in 2016 that you had over 300 pairs of shoes. That would have increased by now. How rich is Iyabo Ojo?
By His grace I am very comfortable. I eat what I want. Wear what I want. Travel to where I want. Take care of my bills and invest in business I want. So I guess I am very comfortable, but, not rich.
You are a woman of many parts. How do you combine all these with your acting profession?
It is just the grace of God. My strength and inspiration come from my children who God gave me to serve thus purpose. So I must thank the Lord for everything I am today. God keeps driving from one success to another. The ideas on what to do come from Him and keeps empowering me with vigour, energy and determination to succeed.
Anything new from you in the movie industry?
Yes, a lot of jobs are in the mill. We are dotting the I's' and crossing the t's'. In due course, the works will hit the shelves and of course, you will be the first to report it.
Any intention to go into politics?
Not for now. It's not in my radar but you never can say never. Truth is I am not cut out for politics.
Your kids are into acting but, many of your colleagues have refused allowing their children to act, why did you approve of them towing your footprints?
Prisilia is the one acting at the moment. For me, you don't decide for a child as a parent especially when the child has grown into adulthood. Today's kids at 16 can educate you on what you are ignorant about. As a parent I believe in advising and guiding my children but not to decide or chose the lifestyle they should live. Truth is once you are successful, you children are bound to listen to your advice because they also want to be as successful as you. Like you note many of my colleagues do not want their children to come into acting hut, many also have their entire family acting and they are hugely successful. So you will agree with me that it is different strokes for different folks.
Your advice to upcoming actors…
Follow your passion.  Keep your dream alive. Be very professional.  Don't put money and fame first.
CLICK HERE TO READ MORE FROM: General
Chuka (Webby) Aniemeka
Chuka is an experienced certified web developer with an extensive background in computer science and 18+ years in web design &development. His previous experience ranges from redesigning existing website to solving complex technical problems with object-oriented programming. Very experienced with Microsoft SQL Server, PHP and advanced JavaScript. He loves to travel and watch movies.
View More Articles
100 Most Popular News
1
2
Displaying
1 - 100
of
141