---
---
By Bunmi Sofola
SUICIDE has a nasty ring to it. It is also chilling. For a human being to sit down, think his life over and decide that it is not worth living, takes a lot of courage. Yet, it takes a lot more courage and guts to stay and find out if at the end of the tunnel, he might not find a light. The bewildering fact is that suicide bids are on the increase; and actual successes boggle the mind. In the past, cases of a suicide were shrouded in absolute secrecy. Instead entirely different reasons were given as to the cause of death while speculations ran riot.
Today, cases of suicide are too common to shock anyone speechless. Bread-winners who'd been financially amputated one way or the other had succumbed to their self-made hang-man's noose; a few wives who couldn't face the humiliation of their husbands' betrayal had laid down and surrendered to premature death without a thought for the kids and relations they would leave behind. And, because of some lousy end-of-year results, some fickle-minded students who saw it as the end of the world had put paid to their young lives. If you want to see more examples of suicides, read the papers. If you want to see how serous we now think it is, have a look at some newspapers' coverage of a few of the events.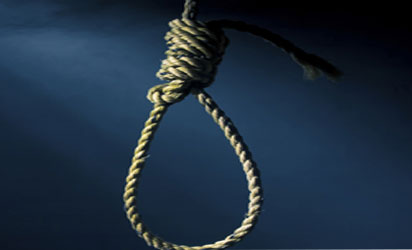 It is all right if you feel you have reached the end of your tether, if you fee like stopping the world and wanting out. Let's face it, after the dastardly act has been committed, you are oblivious to the world. But, have you ever thought of the people you would be sending to their slow deaths by your action? "To live life to the end is not a childish task," says Boris Pasternak in Dr. Zhingo. At one stage in life, we all must have contemplated suicide, just as we must have contemplated strangling villains who constantly make life miserable for us, but that doesn't mean we set out to do those things.
Ten years ago, Florence, an extremely successfully private doctor who was thankfully surviving after the trauma of her divorce, came home to find her undergraduate son stone dead. A hurriedly written suicide note: said it was because he failed his end-of-year exams again, and was asked to leave the "university. He was too embarrassed to face his mother and see the beaten look on her face.
His mother had a nervous breakdown. According to her: "The depression that followed his funeral was suicidal. I was helplessly bewildered and life seemed no longer worth living. I didn't even have the comfort of a husband and father. I couldn't sleep even with anti-depressants and I seldom ate. I knew hard work was good medicine and I drove myself dangerously hard the first few terrible years…."
Today, despite the fact that her other two children have done very well, she has changed out of character; drinking like the devil and weeping even when not provoked.
A 24-year-old nurse whose undergraduate fiance committed suicide told me she went through hell for over two years before she could even begin to live again.
"He had no right to kill me the way he did," she said, exhibiting a bit of the anger she must have felt. "It was him who wanted out, why must I suffer because of it."
In the spate of a few days, there were newspaper reports recently of a man who committed suicide because he lost his job and his wife; and, of another undergraduate who killed himself because of poor exam results. There were even reports of kids under-10 found dangling from the end of a rope!
Maybe, it is about time we encouraged positive thinking in this part of the world. There is need for free access to counsellors when depression hits.
Demolition of structures under power lines
Today, bipolar disease is what used to be called manic depression. The disease literally drives you insane. One of the very early symptoms is acute depression. Unfortunately, bipolar syndrome is more common amongst the youths than ever before—and it doesn't matter if the parents are rich or poor.
Once bipolar hits, victims reasoning becomes disjointed. That's why today's parents are particularly warned to look out for depression of any sorts in their children and seek prompt professional help for such kids—before things get out of hand.
CLICK HERE TO READ MORE FROM: General
Chuka (Webby) Aniemeka
Chuka is an experienced certified web developer with an extensive background in computer science and 18+ years in web design &development. His previous experience ranges from redesigning existing website to solving complex technical problems with object-oriented programming. Very experienced with Microsoft SQL Server, PHP and advanced JavaScript. He loves to travel and watch movies.
View More Articles