---
---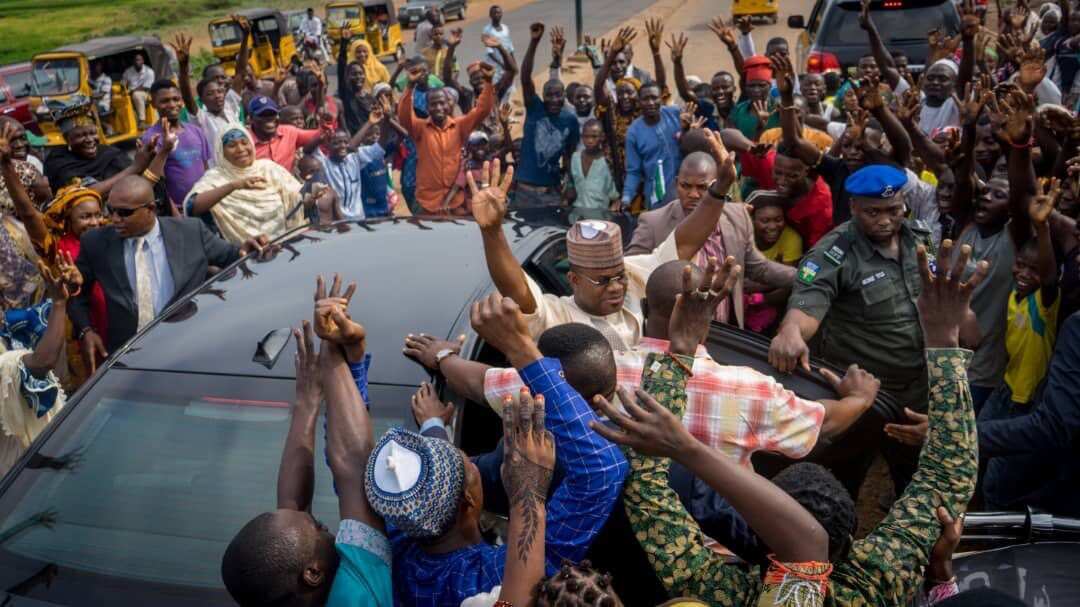 Editor's note: Public affairs analyst, Ocholi Peter, writes on the Kogi governorship election scheduled for November, with emphasis on his preferred candidate, Governor Yahaya Bello,. who he eulogised as a silent achiever, adding that the governor has proven himself to be far above those who are aspiring to govern the north-central state.
Read below:
Arguably, Admiral Jibrin Usman, one of the 67 aspirants jostling to displace Governor Yahaya Bello of Kogi state for the ticket of the ruling All Progressives Congress (APC) in the state has concluded plans to purchase his forms. Usman, who like most of the surprisingly large number of aspirants who hope to challenge Bello at the APC primaries, hails from the Kogi east senatorial district of the state will pay the sum of N22.5m for the expression of interest and nomination form at the national secretariat of the APC in Abuja.
It has become expedience to ask one salient question, where have these aspirant been till now before coming out to struggle for the ticket to rule Kogi state, In the development of a society, nature teaches animals to know their enemies and it's those friendly to animals that they pick as friends. As a matter of realities, what have these people angling to be governor of Kogi state done to impact on the people on the long run.
This argument comes even as feelers indicate that many Kogites are displeased with the unsolicited number of aspirants of Kogi east extraction in the race. Nigerians, including others, from among the majority Igala tribe which is the most populous ethnic group in Kogi sstate and has produced all the governors since 1999 till 2015, have taken to social media and other outlets of information to voice their disgust at the alleged reducing of the office of the governor to a mere jamboree.
A civil servant, resident in Lokoja, the state capital, who spoke under condition of anonymity complained that such issue of everybody wanting to become governor on the argument, to liberate the youths and civil servants should not have come up if the money the aspirants are investing on buying forms was invested on some cottage industries. The cashew not produce in abundance in the land would have been a source of employment, rather than constituting unserious characters in the race, especially in the APC.
READ ALSO: Election tribunal: Akwa Ibom PDP chides APC on ruling party's petitions
'Running for governor used to be a serious issue, it has to be a planned project but we are seeing all kinds of people rushing from the APC and the PDP now. Some of these people we know have serious criminal cases in the courts should destroy the chances of others and ordinarily, should not talk in public or better still hide their face from public view nor running for executive or legislative office. Then there are those who cannot afford the daily meals for their families. All of them are printing posters and gathering under the title of aspirants.'
According to an analyst, Isah Bandy, such people with court cases and criminal matters should be ashamed of themselves noting that the large turnout of Igala aspirants is sending the wrong message to the world about a noble tribe. Even people who should not be looking to contest for local government councillor are coming out as governorship aspirants. It is almost as if they believe any Kogi east person will beat Bello because he is from another tribe. That is not true.
Given the level of the prevailing development and the well known fact that Kogites are resilient, Yahaya Bello remains choice of the people to embark on dividends of democracy to the people obviously, come November 2019 gubernatorial election, the people will have no choice but to decisively take their political destiny to their own hands to affect fundamental decision.
Having tested the terrain of Kogi state and located the geographic positioning system, to know the needs of the people, in November 2019, the people of Kogi state will eagerly look forward to a leader in the mould and personality of Alhaji Yahaya Bello, with his rich credentials of a patriot to assuage their pains with love, care and empathy with a pedigree of hard work, diligence, resourcefulness, commitment, humility, unblemished records, impeccable integrity, visionary foresight and well known penchant for selfless service.
As a silent achiever he has proved himself far among those who are aspiring to govern the good people of the state. He has proved beyond description long before now, he has shown enough capacity to bring the people out of the pains. Ankpa township road which has been a nightmare to the residents through many governors from among Igalas has been completed and put to use, Ibana- Okpo- Ogugu- Ette road has received attention and work has reached 95 per cent completion. In advancing his quest to show his love for the people, Igala unity square, a project abandoned by the Igalas was completed in record time by Yahaya Bello. Dekina township road project which was abandoned now has revved to life. Of significant note is Umomi Idah road project, the longest in the annals of Kogi road network has the sympathy of Alhaji Yahaya Bello, a road network which at a point puts people away from visiting Idah, no matter the price
The ongoing massive clamour by individuals and groups for Yahaya Bello to contest for the second term as governor of the state, is indeed a clarion call for him to step up action to distinguishes himself far and above others who want to join issues with to step forward and present their credentials to prove themselves the stuff they are made of. That is why a group has stepped forward to purchase form for the young talented Yahaya Bello.
A leader is considered visionary, if he plays the role of a pathfinder in navigating the road-map leading to the well being and socio-economic empowerment of his people. With the unfolding scenario and the dire need for a genuine, visionary and people centred leadership which the people of Kogi state are yearning for in 2019, Governor Bello comes handy as a beacon of hope for the enthronement of a leader with empathy, love, care and concern for the people.
READ ALSO: I deserve Ruga, I'm a Miyetti Allah member - Melaye
History has repeatedly shown that there is hardly any successful leader without a clear cut vision. Visionary leaders know where they are going even if it is not clear to their followers from day one. They set targets for themselves and have clear idea of how to get at their goal. Unlike many other political leaders who come to governance by shear accident, unprepared and clueless, with the ultimate aim of amassing wealth, the likes of Yahaya Bello are sufficiently equipped and prepared for governance.
Beyond his wealth of experience, exposure and impressive track records, Yahaya Bello cuts the picture of a leader with clear cut strategic vision. Vision and strategy formulation are among the most important responsibilities of any genuine leadership.
It is something a leader cannot actualise without an in-depth study and understanding of his geo-political environment. Given his far flung exposure and his time tested quest and aspiration to govern Kogi state, Alhaji Yahaya Bello stands out from the pack of other gubernatorial aspirants as the one who has the excellent mastery of the job of human capital development. He is surefooted best bet come November 16, 2019. The time to put our best foot forward, is now!
Disclaimer: The views and opinions expressed here are those of the author and do not necessarily reflect the official policy or position of Legit.ng.
Your own opinion articles are welcome at info@corp.legit.ng— drop an email telling us what you want to write about and why. More details in Legit.ng's step-by-step guide for guest contributors.
We're ready to trade your news for our money: submit news and photo reports from your area using our Citizen Journalism App.
Contact us if you have any feedback, suggestions, complaints or compliments. We are also available on Twitter.
Stay with Legit and keep track of the latest news in Nigeria!
Kogi guber: I will definitely defeat Yahaya Bello - Audu | Legit TV
[embedded content]
CLICK HERE TO READ MORE FROM: General
Chuka (Webby) Aniemeka
Chuka is an experienced certified web developer with an extensive background in computer science and 18+ years in web design &development. His previous experience ranges from redesigning existing website to solving complex technical problems with object-oriented programming. Very experienced with Microsoft SQL Server, PHP and advanced JavaScript. He loves to travel and watch movies.
View More Articles
100 Most Popular News
1
2
Displaying
1 - 100
of
176