---
---
- Few weeks after the partial closure of the Nigerian-Benin border, prices of goods especially rice soar
- Findings by Legit.ng at Agege Darosha market revealed the increment in the cost price of imported goods and a reduction in the price of others
- Traders and buyers in the market plead for an end to the rising inflation and economic instability in the country
Following the partial closure of the Nigerian-Benin border by the government, prices of goods soar in markets across the state.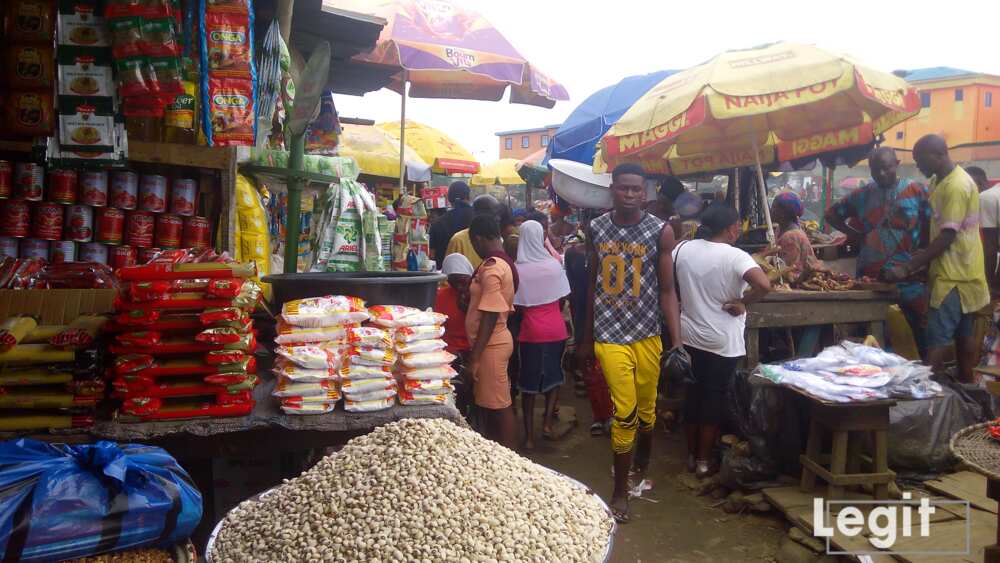 Business activities at the ever busy market, Agege Darosha market, Agege, Lagos. Photo credit: Esther Odili
Source: Original
Investigations by Legit.ng at Agege Darosha market, Agege, Lagos revealed the increment in the cost price of food items especially rice and other imported goods. For some traders, it is still business as usual but others; the current market situation is a pathetic one.
The visit by our correspondent at the market, made known the current state of the economy as some goods that were of reasonable figures before now, are seen on display without good sales and the ones that were of high figures calls for concern as explained by the traders.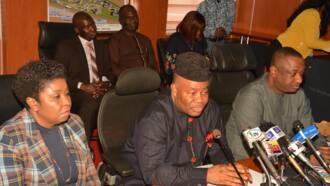 NDDC is owing over N2 trillion - Akpabio reveals, says commission has not performed well (photos)
The partial closure of the border is followed by a joint border security exercise ordered by the government and aimed at securing the country's land and border. It is also an attempt to check rice smuggling amidst other goods that are brought into the country from neighbouring countries and as well to promote local farm produce within the country.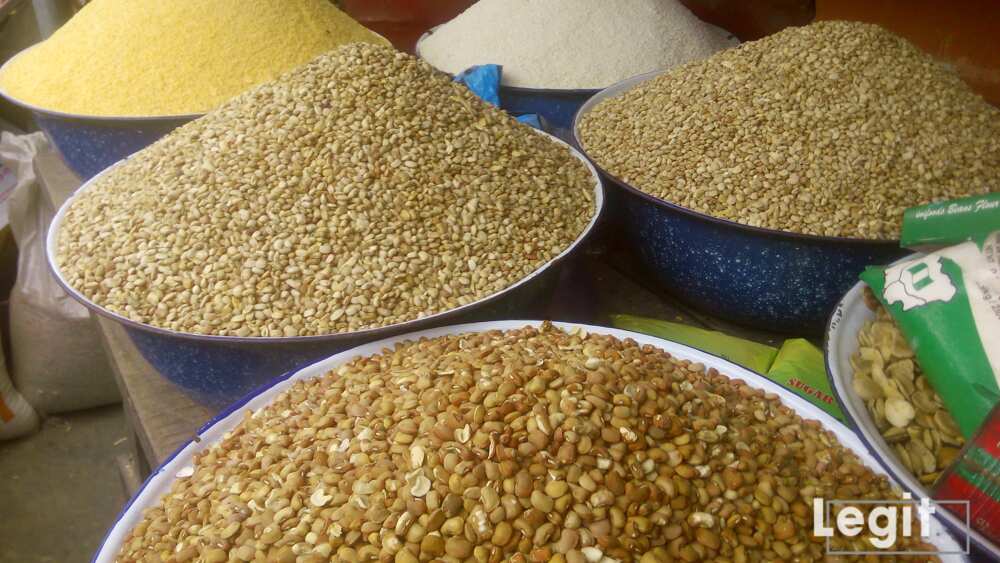 Traders at the market lament poor patronage despite the stability in the cost price of goods like beans and garri. Photo credit: Esther Odili
Source: Original
Following this development, some food items have become affordable due to its excess supply and seasonal factor but before this period, consumers lament the high cost of major goods in the market while sellers on the other hand complain of low patronage that has led to poor sales.
At the market, a trader who sells foodstuff items revealed the recent drop in the price of goods. According to him, the price of foodstuff items drops due to the excess supply of the new ones in the market.
He said: "We don't buy most goods from Seme but ogbono and egusi are purchased in Nigeria. The recent move by the government over the closure of border did not affect traders who sell foodstuff items. The impact it has on us is that we won't be able to sell to other countries and traders who come from neighbouring countries.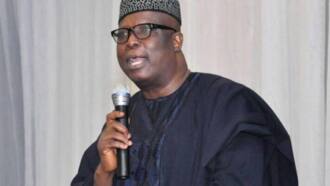 Xenophobia: Presidential aide says many Nigerians not interested in leaving South Africa
"Recently, there's a change in the price of ogbono and egusi as both items are now affordable and available, same with crayfish and dry pepper; this is because the new ogbono and egusi are out making way for the old ones to be sold at a cheaper rate.
"A bag of Cameroun pepper cost N22,000 as against its old price of N25,000 and N30,000 while a bag of dry pepper goes for N25,000. For crayfish, a nylon can be purchased from N8,000 while two-nylon goes for N18,000 in the market.
"Egusi is quite cheap as a bag now goes for N60,000 same with Ogbono. A cup of egusi cost N150 while a cup of ogbono cost N200 and N250 respectively. But those selling above this cost price are those who don't buy directly from the source, they tend to inflate the cost price of the goods. For now, sales have been encouraging so far and the price of the goods vary on the market visited."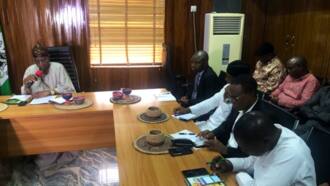 Breaking: FG warns Nigerians not to carry out reprisal attacks against South African businesses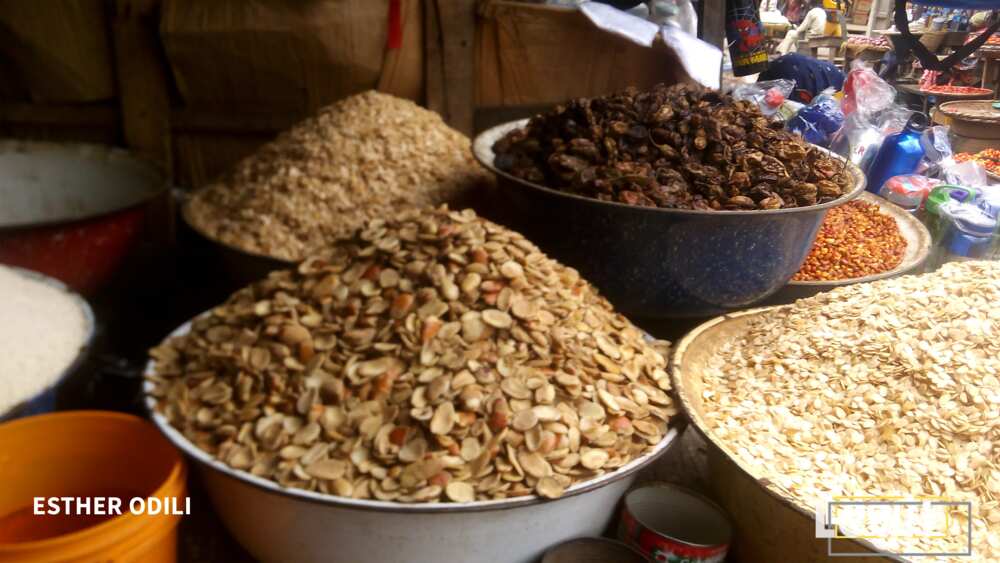 At the market, traders informed of the reduction in the cost price of foodstuff items due to the excess supply of their new produce. Photo credit: Esther Odili
Source: Original
The reverse seems to be the case with goods like beans, yam and garri, as their prices remain stable.
Traders at the market informed that the decision influences the prices of some goods like rice, spaghetti, sugar and some goods that are not made in Nigeria. Adding that, import fee, security issues and the cost of carriage often influence the cost price of these goods.
"Right now, those who sell foreign rice are traders who have purchased rice in large quantities before the closure of the border. And aside the economic condition of the country, the main reason why rice increases today and decreases tomorrow is as a result of the opening and closure of the border as well as import duties of other ones that are brought into the country.
"Ironically, the cost of purchasing the local rice is higher before the closure of the border compared to imported ones due to cost of processing it; This is why traders opt for the foreign rice against the governments' decision of 'buy made in Nigeria goods'. Buyers prefer foreign rice to local rice because of its high quality and good taste.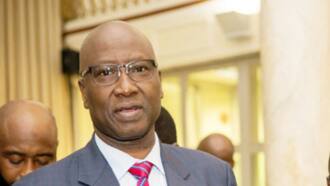 FG will end states, LG joint accounts soon through constitutional means - SGF
"A bag of rice can be purchased from N18,000 upwards while that of beans goes from N17,000 upwards for small bags and the big bags N28,000 upwards. A derica of beans cost 150, while a derica of rice cost N300 as against its old price of N240. For garri, it is not really expensive. A bag of garri (yellow), cost N5,500 while the bag of garri (white) cost N6,000 upwards because the size of the bag is bigger than that of yellow garri.
"Sales have not been encouraging because buyers are really complaining; as those who buy in large quantity now, like two bags before, now go for either a bag of rice or half bag of rice.This closure has really affected their purchasing power a lot," Nnamdi, a food items dealer explained to our correspondent.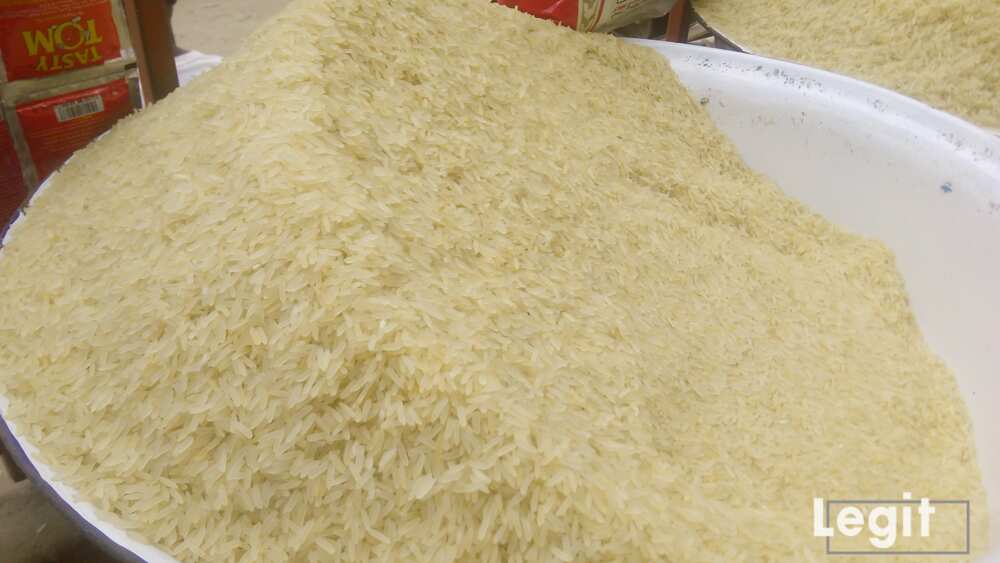 Rice soar higher in markets across the state. Photo credit: Esther Odili
Source: Original
Moreso, the construction work at the market has affected the level of sales; as some traders decry low patronage despite the affordability of some goods, others worry over the instability of their stalls placement and those who sell goods like yam, vegetable, perishable goods in the market plead for better sales.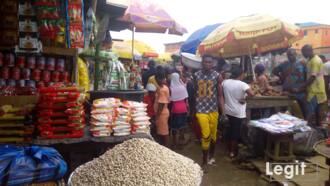 Border closure: Prices of goods soar in popular Lagos market
A yam seller in the market, identified simply as Mallam Abdul informed of the new price of yam in the market. According to him, the new yam is very affordable and available but old yam is a bit expensive.
"The new yam is supplied into the market now in large quantity making the old yam to be very expensive. It's the harvest month but some traders still opt for old yam because they usually wait for like two to three weeks after now, that the yam would have been strong for consumption. The perception of the buyers towards the new yam is wrong; we have different types and depending on the state wherein it is purchased, it's either strong or not strong for consumption.
"We don't make good sales again because people are really complaining despite the affordability of the goods. Right now, the old yam is quite expensive and in some market very scarce but the new yam is affordable with excess supply and the price is determined by the type of yam, the size and the market visited," Mallam Abdul informed.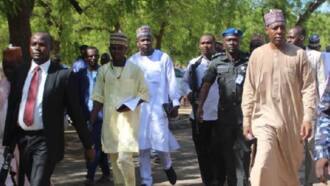 Borno indigenes query traditional leader over open letter to Buhari on insurgency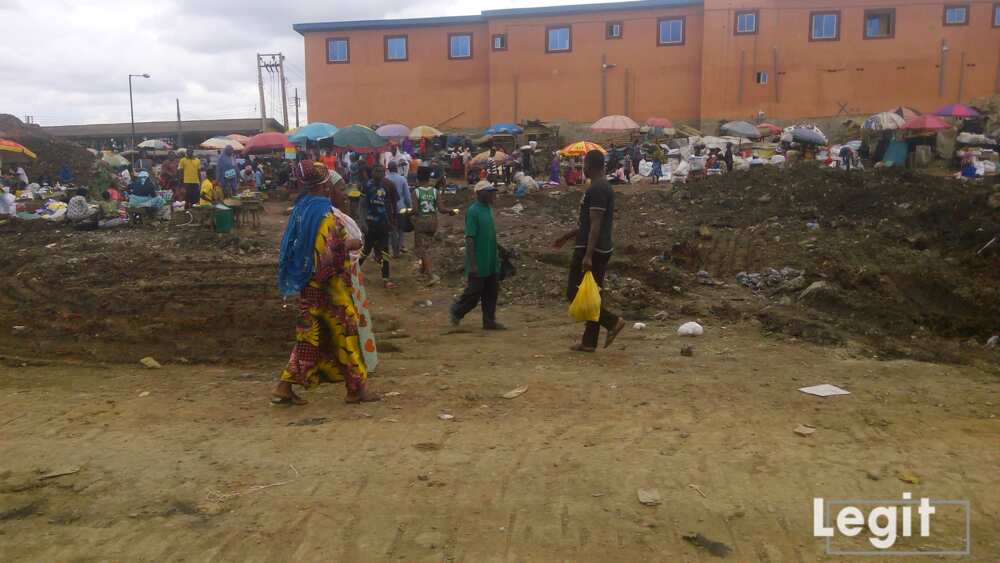 The constructtion work at the market has affected the level of sales as informed by traders. Photo credit: Esther Odili
Source: Original
In another development, traders who sell frozen foods like turkey, fish, chicken and more reveal that the goods have not experienced reduction in prices.
"The closure of the border has affected us a lot, there is no market. Since we experienced a recess in the economy; there's has been little or no difference in the cost price of goods. We are finding it really hard to make good returns after daily sales. Buyers keep telling us no money, we in turn cry to the distributors who sometimes show no mercy because if we don't restock our shops for new goods, then we will beg to feed.
"We vote for the president the second time, so we will all experience the next level but nothing has changed so far. Before, we sell over four cartons of chicken daily, but now we struggle to sell one carton per day.
"A carton of turkey, before sells for N8,000 but now it goes for N12,000, N14,000, N16,000 and more. Also, a carton of croaker fish that cost between N7,000 and N10,000 before, now cost N25,000 and above for the small-size while the big-size fish cost N30,000. A small-size croaker fish cost N500, while the big-size croaker fish cost N1,000 and above. This is similar to Titus fish, as big-size Titus fish is sold from N600 upwards.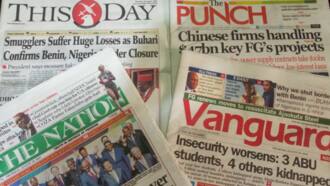 Newspaper review for August 29: Absence of Buhari, Osinbajo, stops first FEC meeting
"The construction work has affected a lot of businesses here because most traders have lost their loyal customers due to impromptu movement of stalls from one place to another as buyers now find it difficult to locate certain shop or stall in the market," the trader who operates a frozen foods store stated.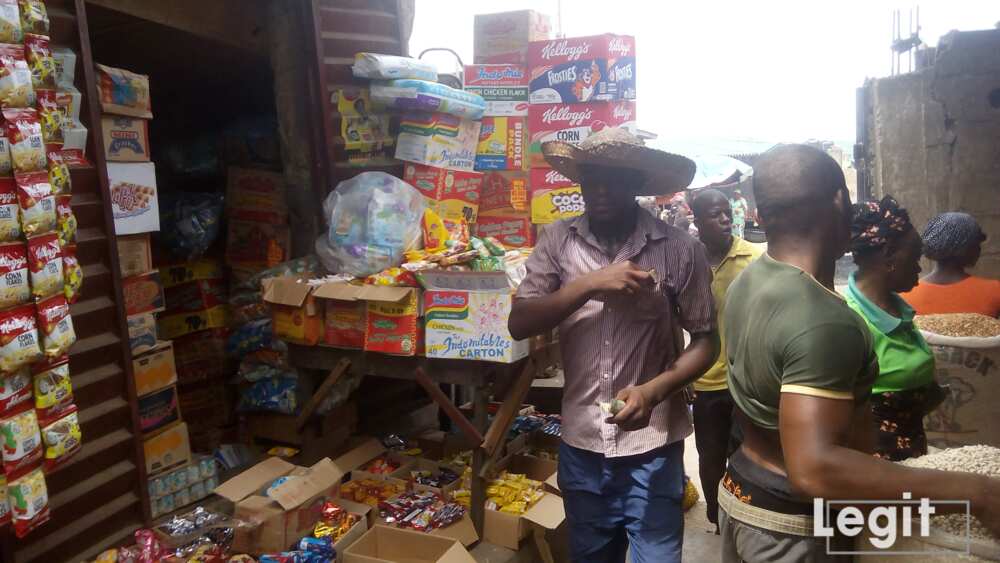 Provisional items witnessed about 5 percent increment in prices at the market. Photo credit: Esther Odili
Source: Original
He opined that the cost of carriage as well as other expenses incurred influence to a large extent the selling price of beef in the market; adding that traders who sells beef at reasonable prices often run at a loss after daily sales.
He said: "It is not easy for us anymore as traders, the prices of some goods rises and never fall again while others fluctuate. The beef that we purchase from N50,000 before, now goes for N100,000. And by the time we add other expenses, we end up spending over N110,000 for the purchase. Now how then do we realise profit? because we have to sell at an affordable rate so we won't run at a loss.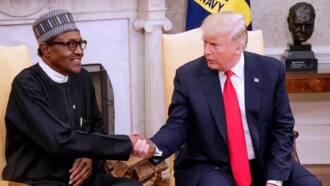 Breaking: Finally, FG reduces visa fee for American citizens
"After the election, we plead for a better economy, as things are really expensive in the market now. Only the goods of less quality are affordable. The president has promised to take us to the next level, so we are hopeful of a better Nigeria ahead."
Reacting to the decision by the Federal government, a buyer who spoke with our correspondent in anonymity explained that the cost of feeding by most families has increased now due to economy hardship.
"The partial closure of the border is not new to us; it has happened before and it will continue to happen if nothing is done or if those in authorities are not ready to proffer a lasting solution to the salient issues affecting the people. It is not only rice or foodstuffs are smuggled into the country; clothes, shoes and even bags to mention but a few are also purchased from neighbouring countries due to their quality as the ones made here are of low standard.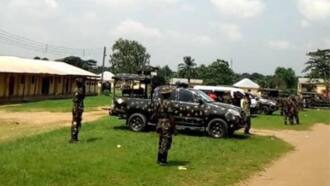 Boko Haram in Borno: Of lost faith and terrorist collaborators by Richards Murphy (Opinion)
"Since food prices have risen beyond our expectation for some time now, we are seriously trying to survive. Presently, most people cannot even come to markets as they afraid of what would become of them in the course of bargaining for goods and some can't even feed well. We spend double of the cash we use to buy goods before, in the market now. It is really frustrating. We are begging the newly elected leaders to deliver on their promise," The buyer told Legit.ng.
Surprisingly, there is stability in the price of onion, tomato and a slight change in the price of pepper.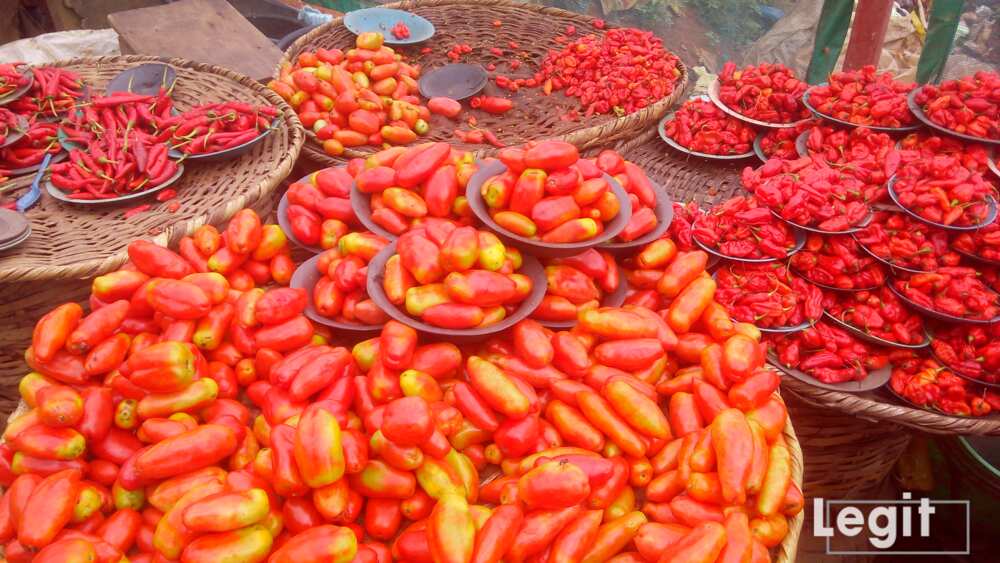 Chili pepper is a bit expensive while tomatoes and onion are affordable and available in markets across the state. Photo credit: Esther Odili
Source: Original
A trader who sells perishable goods in the market informed Legit.ng that: "Right now, we have different types of tomatoes. And the one that is quite affordable is the one from the neighbouring state like Ekiti state. A basket of fresh tomatoes can be purchased from N8,000 while the bigger sized basket is sold from N10,000 upwards. A small bag of chili pepper is sold from N3,000 upwards same with the small basket of pepper as against its old price of N1000 upwards. A small bag of new onion goes for N18,000 while the big bag of old onion goes from N28,000 upwards.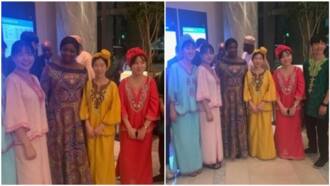 Abike Dabiri meets Japanese boys and girls in Nigerian native attire (photos)
"We have the small or tiny sized tomatoes and the big round sized tomatoes. We also have the ripe and unripe one brought into the market. We have the Hausa tomatoes, the Maiduguri tomatoes, the Jos tomatoes, the Kano tomatoes, the Benue tomatoes, the Ghanaian tomatoes and more but the most expensive ones are the Jos tomatoes and the Hausa tomatoes. Their taste makes the difference and as well influence the buyer's decision."
Market survey: Two months into Buhari's second term, traders lament bitterly via Legit TV
[embedded content]
CLICK HERE TO READ MORE FROM: General
Chuka (Webby) Aniemeka
Chuka is an experienced certified web developer with an extensive background in computer science and 18+ years in web design &development. His previous experience ranges from redesigning existing website to solving complex technical problems with object-oriented programming. Very experienced with Microsoft SQL Server, PHP and advanced JavaScript. He loves to travel and watch movies.
View More Articles
100 Most Popular News
1
2
Displaying
1 - 100
of
169